Western powers have condemned
Russia's recognition
of the Georgian separatist regions of South Ossetia and Abkhazia as independent countries.
U.S. Secretary of State Condoleezza Rice has ruled out the Russian move being accepted by the United Nations, saying the international community will continue to consider South Ossetia and Abkhazia as belonging to Georgia.
"Since the United States is a permanent member of the Security Council, this simply will be dead on arrival in the Security Council, and therefore in accordance with other Security Council resolutions that are still in force, Abkhazia and South Ossetia are [within] the internationally recognized borders of Georgia, and it's going to remain so," Rice said.
On August 7, fighting broke out in South Ossetia between Georgian forces and South Ossetia fighters. Russia launched a counterattack, expelling Georgian troops from the breakaway province.
U.S. Criticism
President George W. Bush has called on Moscow to reconsider what he called its "irresponsible decision." U.S. presidential candidates, Barack Obama and John McCain, have both condemned Russia's decision.
The European Union has said it will examine the "consequences" of Russia's decision and will hold an emergency summit on the issue on September 1.
German Chancellor Angela Merkel termed the decision "unacceptable" during a speech in Tallinn.
She called the move "inconsistent with my, and I think our common, understanding of the principle of territorial integrity and the fundamental international rights of nations and is therefore absolutely unacceptable."
British Foreign Secretary David Miliband is due to visit Kyiv today for talks with Ukraine's leadership. Miliband on August 26 said his visit is part of efforts to build a broad coalition to counter what he called "Russian aggression in Georgia."
Miliband said Britain continues to fully support Georgia's independence and territorial integrity, which he said "cannot be changed by decree from Moscow."
Georgian President Mikheil Saakashvili has accused Russia of trying to "change Europe's borders by force." And, in an interview with the BBC, he accused Russia of continuing to commit "ethnic cleansing" in Abkhazia and South Ossetia.
Saakashvili said Russia was "throwing out" the remaining Georgians and "destroying the villages, killing and raping and looting" in the two provinces.
Russian Response
Russia has defended its actions. Speaking at the UN, Russia's Permanent Representative to the UN Vitaly Churkin dismissed the notion that by its "independence" decision Moscow may be signaling the beginning of a new Cold War and rejected the idea that now Moscow will look for justification to annex South Ossetia, which borders the Russian province of North Ossetia.
In an August 26 article in the London-based "Financial Times" newspaper, Russian President Dmitry Medvedev said he had no other choice but to recognize South Ossetia and Abkhazia after Western countries earlier this year recognized Kosovo's unilateral declaration of independence from Serbia, despite Russia's objections.
Medvedev blamed Georgian President Saakashvili for the current crisis, saying Russia moved forces into Georgia to "save lives" after Georgian forces attacked South Ossetia earlier this month.
Russia has also accused the United States of shipping arms to Georgia on U.S. naval vessels. President Medvedev made the charge in an interview with the BBC.
A White House spokesman, Tony Fratto, denied the accusation. The U.S. Embassy in Tbilisi had said two U.S. warships would deliver aid supplies to the Georgian Black Sea port of Poti on August 27, but the embassy later retracted the statement. Russian troops still control access to Poti.
No Docking In Poti
Meanwhile, on the ground in Georgia, a U.S. Coast Guard ship carrying humanitarian aid has arrived on the country's Black Sea coast, backing down from docking in a Russian-patrolled port.
The cutter "Dallas" had been due in
Poti
, where Russian troops are manning checkpoints since pushing into Georgia proper earlier this month. Instead, it docked 80 kilometers south in Batumi.
The U.S. Embassy in Tbilisi originally said the "Dallas" would be joined in Poti by a U.S. warship, the "USS McFaul," which docked in Batumi on August 24. But the embassy said late on August 26 that the plan had changed.
"This decision was taken at the highest level of the Pentagon," a U.S. Embassy spokeswoman told Reuters.
compiled from agency reports
Reaction To Russian Recognition
Photogallery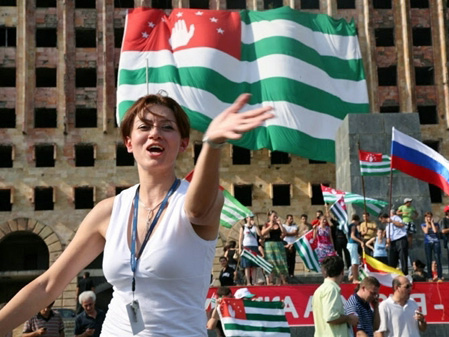 Reaction to Russia's Recognition of Abkhazia and South Ossetia

View