Delegations from a number of countries have walked out of a UN conference on racism during remarks aimed at Israel by Iranian President Mahmud Ahmadinejad.
The five-day gathering opened in Geneva amid controversy over a boycott by a number of Western countries prompted by fears that Iran's president would use his address to launch a verbal attack on Israel.
In his speech, Ahmadinejad accused Israel of being a "most cruel and racist regime" and said it was created "on the pretext of Jewish suffering" during World War II.
Some 40 delegates stood and exited the hall amid a mixture of outraged shouts and encouraging applause from the floor and spectators' sections.
Washington had announced "with regret" on April 18 that it would boycott the Durban Review Conference, which already has seen much of the bickering and political infighting that marred the previous conference in South Africa in 2001, and was soon joined by a handful of other Western governments.
Israeli Prime Minister Binyamin Netanyahu, whose country is not participating, has strongly condemned Ahmadinejad's presence and praised the countries who boycotted the event.
"Six million of our people were murdered in the Holocaust. Not everyone has learned the lesson, unfortunately," Netanyahu said. "While we commemorate their memory, a conference purporting to be against racism convenes in Switzerland. The guest of honor is a racist, a Holocaust-denier, who makes no secret of his intention of wiping Israel off the face of the earth. I commend those nations that boycotted this hate summit."
Boycott 'Disappointment'
The event is the UN's first global racism conference in eight years.
UN Secretary-General Ban Ki-moon warned at the conference's outset that racism was one of the most pressing issue facing humanity.
"Racism is a denial of human rights, pure and simple, and may be institutionalized, as the Holocaust will always remind us," Ban told attendees. "Ultimately it may express itself less formally, as the hatred of a particular people, or a class, as anti-Semitism, for example, or the newer [phenomenon] Islamophobia."
While France and Britain planned to attend the meeting, several other countries -- including the United States, Canada, Israel, Australia, New Zealand, Germany, the Netherlands, and Poland -- are boycotting the conference due to objections to a conference draft declaration they consider unacceptable.
U.S. President Barack Obama said on April 19 that he would be happy to attend a conference that addressed the issues of racism and discrimination around the globe. But he added that the concessions over the language of the draft document were insufficient.
Ban said before the gathering that he was "profoundly disappointed" by the boycotts.
"Some nations, who by right should be helping to forge a path to a better future, are not here," Ban said. "Outside these halls, interest groups of many political and ideological stripes shout against one another in acrimony. They, too, should be with us, talking together."
The draft text is a watered-down version of an earlier document that removed many controversial phrases and sections.
But critics say it still implies criticism of Israel and contains an attempt by Muslim governments to ban criticism of Islam. The draft retains a clause about the incitement of religious hatred that many Western countries consider a curtailment of free speech.
Juliette De Rivero, Geneva advocacy director of Human Rights Watch, told RFE/RL that her group believes the draft text is a strong document against racism that strengthens freedom of speech.
"This document does not go beyond established international norms, and in fact recognizes that incitement to hatred can constitute a violation when incitement leads to violence," De Rivero said. "And this is something that is contained in international human rights instruments so this is not a reason for pulling out of the conference."
EU Walkout
Ahmadinejad's invitation to address the conference on its opening day led to unease within some circles. Ahmadinejad has in the past called the Holocaust a myth and said that Israel should be transferred to Europe or Alaska.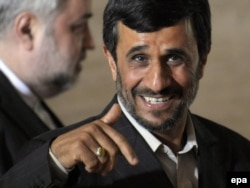 President Mahmud Ahmadinejad after a bilateral meeting in Geneva with Ban Ki-moon
Israel and Jewish groups have expressed concern that his presence would turn the conference into an anti-Semitic gathering.
Hours ahead of the gathering, Israel ordered its ambassador to Switzerland to return home for "consultations" to protest the conference in Geneva. Israeli officials also voiced anger at a meeting that Swiss President Hans-Rudolf Merz held on April 19 with Ahmadinejad.
Ahead of Ahmadinejad's speech, French Foreign Minster Bernard Kouchner warned that Europeans would walk out of a the UN antiracism conference if the Iranian president makes "anti-Semitic accusations" during the event.
EU delegates left the hall after Ahmadinejad made remarks that were seen as directed at Israel.
"After World War II, using the excuse that Jews were victimized and abused during the Holocaust, they made a nation homeless, and they transferred [people] from Europe, the United States, and other countries to their land, and they created a racist government in the occupied Palestinian territories," Ahmadinejad told the conference to a mix of shouts but also applause from some delegates.
"It is a pity that Mr. Ahmadinejad is trying to take this conference hostage," said French Ambassador Jean-Baptiste Mattei. "We are ready for serious discussion but this is beyond what should have been expected."
Spirited Debate
De Rivero said governments have the right to react to Ahmadinejad if he makes statements that are offensive and contrary to the spirit of the conference.
But she added that his presence should not jeopardize and put into question months of negotiations and the results of the conference.
"I think it's an opportunity to raise our concerns about what is happening inside Iran and what is happening with religious minorities such as the Baha'is in Iran who are oppressed," De Rivero said. "And it's an opportunity to send a clear message to Ahmadinejad about how he goes about protecting rights in the fight against racism."
Amnesty International has said it is "dismayed" by the boycott and urged governments not to "politicize" the meeting.
"True conviction in combating racism requires governments to be there to stand up for what is right and to reject forcefully what is objectionable," the group said in a statement.
The UN organized the Geneva meeting to help heal the wounds left by its last race summit, in South Africa in 2001. The United States and Israel walked out of that conference after Muslim states sought to define Zionism as racist.
Delegates at that 2001 meeting did not include any language about Israel and racism in their final text.
written by RFE/RL correspondent Golnaz Esfandiari; with additional wire reporting