The European Court of Human Rights can crack open the champagne.
Russia's parliament
has approved
a long-delayed international agreement to strengthen the influential court, ending more than three years of resistance.
Russia had been the only one of the Council of Europe's 47 members not to ratify Protocol 14, a package of badly needed reforms to streamline the court's work. The standoff with Moscow effectively blocked the protocol's implementation.
State Duma speaker Boris Gryzlov said Russia decided to approve the agreement because concerns about the protocol had now been taken into account.
At the heart of those concerns was a provision allowing a single judge to hear a case in the absence of judges from the country where the case originated.
Philip Leach, a professor of human rights at London's Metropolitan University and director of the European Human Rights Advocacy Center, which helps people take cases to the court, notes that Russian judges generally sit in chambers of seven or committees of three.
"The idea that a judge on his or her own should be able to make a decision was one of the reasons why Russian originally objected to Protocol 14," Leach says.
The Council of Europe's ministers made a key concession last month by allowing a Russian judge always to participate in decisions concerning Russia.
Alleged 'Politicization'
Russian lawmakers first refused to ratify the protocol in December 2006.
Then-President Vladimir Putin attributed the decision to what he called "politicized" rulings by the Strasbourg-based court, which regularly delivers judgments rebuking Russia for severe human rights abuses.
Growing numbers of Russian citizens, disillusioned with their country's flawed justice, are seeking redress against authorities at the Strasbourg court.
Many of these cases relate to human rights abuses in war-battered Chechnya, including abductions, torture, and extrajudicial killings.
More than 120 rulings already delivered by the court against Russia related to human rights abuses in Chechnya, and many carried heavy fines.
In one of its most significant judgments, the court in 2006 ordered Russia to pay the equivalent of $116,500 at the time in damages to Chechen resident Marzet Imakayeva, whose husband and 25-year-old son both disappeared after being detained by Russian forces.
Despite such results, Leach says Russian authorities have been obstructing the court's work on Chechnya for many years.
"We've done a lot of work on cases from Chechnya -- we work with the NGO Memorial -- and there is quite a lot of obstruction by Russian authorities in dealing with these cases," Leach says. "One of the biggest problems is that the authorities are routinely, in the Chechen cases, refusing to hand over the domestic case files, and these are cases about disappearances, alleged torture and killings."
Leach emphasizes that Russia is required under the European convention on human rights to provide case files.
Trying To 'Mollify'
Analysts say much of Russia's opposition to Protocol 14 was political.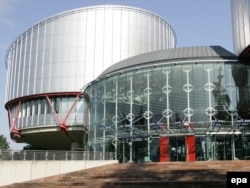 The seat of the European Court of Human Rights in Strasbourg
The popular court's mechanism is badly congested; it takes an average of six years for a judgment to be made. Some 120,000 cases are currently pending, more than 30,000 of which come from Russia.
The reform intends to speed up the process dramatically and reduce the court's massive backlog of cases -- meaning Russia is likely to see an increase in rulings against it.
So what's behind the January 15 decision to approve the protocol?
A pending $98 billion case brought against Russia by former oil giant Yukos, which contends it was unfairly prosecuted and driven into bankruptcy, is likely to be a factor.
The court has been forced to postpone the high-profile trial several times in past weeks, citing the unavailability of Russia's judge and government agent at the court.
But sooner or later, that case will be heard. So Russian political analyst Nikolai Petrov suggests that Russia may be hoping to obtain a milder ruling by offering a sweetener and signing on to Protocol 14.
"The consideration of the Yukos case has been postponed for months on various pretexts. Now that all the possibilities of delays have run out, the ratification lever is being used," Petrov says. "The Kremlin is interested in mollifying the European Court as much as possible by improving Russia's image with the judges."
Petrov says Russia's ratification fits into a larger campaign to repair ties with the West, badly frayed by the 2008 war between Russia and Georgia.
RFE/RL Commentary Desk Editor Robert Coalson contributed to this report