NEW YORK -- How do traces of a civilization with no written language and no documented history survive?
In the case of the ancient societies that populated Eastern and Southeastern Europe in the period between 5000-4000 B.C., the challenge has proved especially daunting.
The cultures that thrived for centuries across modern-day Bulgaria, Romania, Moldova, Serbia, Macedonia, and Ukraine suddenly collapsed and disappeared.
Only now, with a new exhibit at New York University, are Western audiences becoming acquainted with what curator David Anthony says was the most advanced European civilization of its time.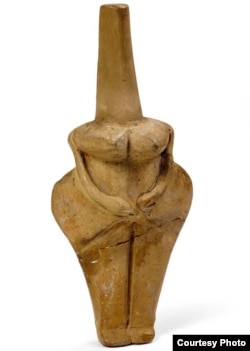 A female figurine of fired clay (5000–4600 B.C.) from National History Museum of Romania (photo: Marius Amarie)
"These were the first cultures to invent metallurgy in Europe -- that's a major technological achievement," Anthony says.
"And all later civilizations in Europe, of course -- including the Greeks and Romans -- depended on metals. And that history of making tools and weapons out of metal begin with these cultures of old Europe."
"The Lost World of Old Europe" exhibit, on view through April 25 at the university's Institute for the Study of the Ancient World, brings together 160 figurines, necklaces, and other decorative objects recovered by archaeologists from the graves, towns, and villages of the region at the time.
The "Old Europe" cultures featured in the exhibit marked the beginning of Europe's agricultural civilizations. The items on display, including highly stylized human figurines, show a stunning level of sophistication in fired-clay pottery and metalworking.

'Under-Recognized Europe'
Archaeological work was active during the communist era in Eastern and Southeastern Europe. Now, after a long post-Soviet lull, Anthony says global appreciation of Old Europe culture is growing.
"In general when you look at synthetic works of prehistory, Eastern Europe tends to get underemphasized. And so they're under-recognized that way," Anthony says.
"In fact, if you were to do things fairly and to recognize the productivity of these different prehistoric cultures, it was the southeastern ones that were -- for a time, anyway -- the most advanced in Europe."
Both the ceramic and metal objects on display show an advanced understanding of working with fire and kilns. Societies at the time were also adept at mining, digging as deep as 30 meters to extract gold and copper ore. They also forged numerous trade networks, as one necklace strung with shells from the Aegean Sea attests.
By the standards of prehistoric Europe, the cultures represented in the "Lost World" exhibit showed a high level of social organization.
Anthony says the region was home to the largest human settlements in the world at the time, including towns with populations as large as 10,000 people.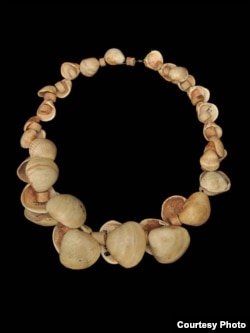 Shell necklace (4500–4300 B.C.) National Museum of Archaeology and History of Moldova (photo: Jurie Foca and Valery Hembaruc)
"At certain times and in certain places, particularly in Ukraine, you see settlements grow to 150 houses, and then 500 houses, and then 2,000 houses," he says. "And the settlements of 2,000 houses were more than a kilometer long."
Rise...And Fall
The cultural peak of Old Europe marked the early days of development in Mesopotamia, in modern-day Iraq. But even that civilization, with its monumental public architecture, never reached the scale of human settlements recorded on the territory of contemporary Ukraine.
It remains a point of debate what caused the sudden demise of the vibrant, thriving Old Europe societies.
Jennifer Chi, the institute's associate director for exhibitions and public programs, says some historians believe invasions by nomadic tribes from the north led to the settlements' extinction.
She says the hypothesis is that between 4000 and 3500 B.C. "there were invasions of nomadic people coming from the Eurasian steppes, and that they destabilized the area. And there is evidence in the settlements in the south that there was deliberate burning of cities and cities were abandoned."
Another theory is that the end of the Old Europe societies was caused by climate change. Archaeological relics indicate that the weather in the region became dramatically colder around 4000 B.C., forcing residents to disperse in search of warmer areas and arable land for farming elsewhere.