Whistleblowing website WikiLeaks has released what it claims are nearly 400,000 classified U.S. files on the Iraq war, in the biggest security breach of its kind in U.S. military history.
The documents, released late on October 22 and presented on October 23 at a news conference, detail cases of prisoner abuse and torture by Iraqi forces that the U.S. military knew about but allegedly chose to ignore.
The files also cite instances of rape and murder, including a videotaped execution of a detainee by Iraqi soldiers.
WikiLeaks founder Julian Assange said the documents, which span as much as six years of war between 2004 to 2010, showed evidence of war crimes.
Speaking at the news conference in London, Assange said WikiLeaks' disclosure of the documents aimed to show the truth about the Iraqi conflict.
He said the files documented some 15,000 "never previously documented or known cases of civilians who have been killed by violence in Iraq."
U.S. Responds
Although their authenticity has yet to be proven, the files have had a bombshell effect.
U.S. officials were quick to denounce their disclosure.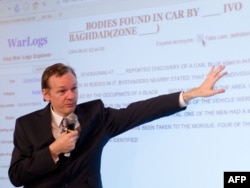 Assange displays one of the leaked Iraqi reports to journalists in London.
The Pentagon dismissed the files as "ground-level" field reports that brought no real surprises, and U.S. Secretary of State Hillary Clinton said the reports were dangerous to people in Iraq.
"We should condemn in the most clear terms the disclosure of any classified information by individuals and organizations, which puts the lives of United States and partner service members and civilians at risk."
At least one U.S. soldier was critical of the WikiLeaks files, as well. David Service, a private based at Camp Warrior in the northern Iraqi city of Kirkuk, told Reuters he believed the information should have been kept confidential.
"I don't think anybody's who's managed to access classified information should share it, as far as regarding the safety of the soldiers or the people it could be affecting," Service said. "But when you get into it, the Iraqis have...you know, it's a violent culture, and we've been doing our best to help them with the problems that they're having."
But WikiLeaks firmly defended the documents' publication, saying they were published in a censored form and contained no information that could harm anyone.
John Sloboda, co-founder of Iraq Body Count -- a rights group that helped prepare the documents -- told reporters, "The victims of this war, their families, and the public, whose taxes funded this war, deserve better than this. There is a public right to know."
Assange added that he hoped the files would have the "maximum political impact possible."
Inside Iraq
A Baghdad resident, who identified himself as Salah, told Reuters that Iraqis already know all the information released in the documents.
"Every family has a relative who was tortured in prison, either detained by Iraqi or foreign forces, or knows someone who was killed by Iraqi or foreign forces. This is something we all know about."
"The documents," he said, "only provide official confirmation."
The Iraq conflict has faded from U.S. public debate in recent years in favor of the war in Afghanistan, and the leaked documents could revive discussions on abuse committed in Iraq.
Assange said the documents provided enough material for dozens of lawsuits of wrongful killing.
Reacting the documents' release, Amnesty International said U.S. authorities may have broken international law by handing over detainees to Iraqi forces known to be committing abuses "on a truly shocking scale."
The release of the Iraqi war logs comes just months after WikiLeaks published more than 70,000 classified documents about the war in Afghanistan.
written by Claire Bigg, with agency reports