In a nationwide address, Iran's supreme leader appears to have thrown down the gauntlet, calling for an end to mass street demonstrations and declaring the June 12 vote a "definitive victory" for President Mahmud Ahmadinejad.
Ayatollah Ali Khamenei also labeled those who question the vote and claim that there was fraud "enemies."
But while Khamenei called the election a new breath for the Islamic establishment, the same vote has been described by the losing presidential candidates very differently.
Mir Hossein Musavi has called it "wizardry" and a "dangerous charade." And he has demanded a new ballot.
The masses of protesters that have packed the streets of Tehran at daily demonstrations agree. And many are looking to Musavi, especially, to get back their "stolen votes."
"Our main demand is democracy and the taking back of our rights, even as regards the smallest things called ballot papers," one demonstrator told RFE/RL.
The question is whether Musavi will be willing to challenge Khamenei, who is the highest authority in an establishment Musavi has been a part of for the past 30 years.
'Face The Consequences'
Khamenei did not mention Musavi or fellow reformist candidate Mehdi Karrubi by name in his speech on June 19. But he underscored several times that all of the presidential candidates who took part in the vote were part of the system and should now respect its rules. Protesters who continue to demonstrate, he said, will have to face the consequences:
"Struggling in the street after an election is not the right thing to do," Khamenei said. "But also, it challenges the principle of democracy and election. I ask everyone to stop this. This way is wrong. If they don't stop this, then they will bear the responsibility and the consequences of this chaos."
Thousands turn out for the supreme leader's Friday Prayer sermon, in which he sent a strong warning to protesters and called Mahmud Ahmadinejad the country's "legitimate" president. (Reuters video)
Hossein Bagherzadeh, a London-based political analyst and human rights activist, tells RFE/RL's Radio Farda that Khamenei has paved the way for a crackdown on the protesters.
"I think the scene has been set for a harsh political encounter," Bagherzadeh says. "It's not clear yet how Musavi and Karrubi will react, but the people who have come out into the streets are not likely to give up their movement, so there is concern that in the coming days we could witness violent reactions to this movement."
Amnesty International has issued a statement saying Khamanei's speech indicated the authorities' readiness to launch a violent crackdown if people continue to protest.
Not Backing Down?
By temperament, the mild-mannered Musavi is not a natural-born leader. The introverted painter and architect, who had been absent from Iran's political scene for 20 years, did say during a televised debate before the vote that he was ready to face difficulties.
Musavi said his tenure as prime minister for eight years during the war with Iraq was trying due to "problems, tanks, and political currents," but that "I am the same person, I haven't changed. I was a strong person at that time, everyone knows it, I'm the same person now."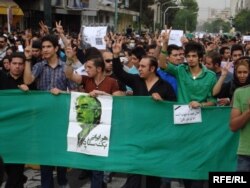 Is this the end of the "Green Storm"?
Yet Musavi probably did not expect the challenge to be so great.
Some believe the prospect of more bloodshed could make him drop his demand for a new election. But others note that his wife, Zahra Rahnavard, was quoted on June 17 as saying in a meeting with Tehran University students that he will not give up the people's rights.
Even If Musavi decides to back down, some of his supporters might still continue their street protests.
That could lead to even more violence and repression. During the past several days, at least seven protesters have been shot dead by members of the Basij militia, many have been injured, and over 150 reformist figures, journalists, critics, and others have been arrested.
The Green Storm

Yet many of the protesters have expressed their determination to go on with their protests despite warnings from officials and the violent reaction of the authorities so far.
One of them told RFE/RL that the results of the vote, which he and other protesters believe was massively rigged, have unleashed unprecedented anger and outrage among Iranians.
"This is all spontaneous," the man said. "In fact, people did not listen to those leaders who asked people not to gather for rallies. People came because they believe this should not be stopped and it should not be extinguished."
At 67, Musavi was probably not expecting to become the leader of what has been described by some as the "green storm" or "green power." He has generated a lot of hope for change, better human and cultural rights, and a more moderate Iran.
He is not very charismatic and not very good at making contact with people. But he's now seen by many -- rightly or wrongly -- as the only hope for change in the Islamic republic.
Abbas Milani, the director of the Iranian studies program at Stanford University, says that Musavi can either stand firm against "the apparatus of power and oppression" and lead the movement that has been created -- or surrender.
"He's a figure who because of all the current conditions is in a position to potentially play a historical role or he can potentially become one of those figures who will be harshly judged by history, and it will be said that despite the fact that this opportunity was given to him by the people of Iran, he wasn't capable of playing this role."
Iran Election Special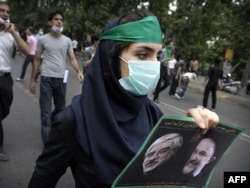 RFE/RL's Full Coverage
Following the disputed reelection of Iranian President Mahmud Ahmadinejad, supporters of Mir Hossein Musavi have taken to the streets to protest.
Click here
for news, blogs, and analysis of the presidential election and aftermath.
Iran Election Diary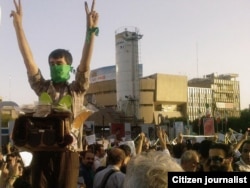 Disputed Presidential Vote
There have been protests and clashes with police on the streets of Tehran following the disputed reelection of Mahmud Ahmadinejad. RFE/RL collects videos, photos, and messages on social-networking sites coming out of Iran to attempt to get a picture of what is happening inside the country.
Click here