MOSCOW -- One contestant dresses up as Elvis, another sings of being a gypsy, and a third features a backup group of three sleek young men in makeup called the "anticrisis boys."
Welcome to a fairly average lineup at the 54th Eurovision Song Contest, the annual competition that has come to be loved as one of
Europe's kitschiest pop-music events.
Although the Belgian Elvis and Gypsy.cz of the Czech Republic have been eliminated in the semifinals, the remaining 25 acts -- representing countries ranging from Turkey and Azerbaijan to Albania, Moldova, France, and Great Britain -- promise to deliver the flamboyant costumes, glitzy dance routines, and dubious musical tastes that Eurovision audiences have come to expect.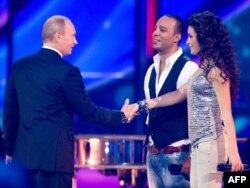 Russian Prime Minister Vladimir Putin shakes hands with Azerbaijan's entry, AySel and Arash, during rehearals.
But where many Eurovision fans enjoy the funnier side of the contest, in Russia -- which is acting as first-time host after its win last year by singer Dima Bilan -- people are taking it a lot more seriously.
With a reported budget of more than $42 million -- twice as much as host nation Serbia invested in 2008 -- this year's competition will be the most expensive Eurovision ever.
No less a figure than Russian Prime Minister Vladimir Putin inspected the stadium where the competition will be held, and street signs and television have advertised the event with feverish intensity.
'We Are The Champions!'
A bit over the top, perhaps?
Rock critic Artemy Troitsky says anyone watching state television in Russia these days might be forgiven for thinking the Eurovision contest is one of the biggest events in the world -- comparable to Russia's victory over Canada in the world hockey championship last week or Zenit St. Petersburg's 2008 UEFA Cup win.
"Our television has really tried to turn the situation on its head, so that Eurovision has become something like the European championship of pop music," Troitsky says.
Our country's representatives have created such a celebration for Europe. It's great. In the present situation of the world, it's cool. It's super. We are better.
Troitsky says that while Bilan's victory is being compared to those of Zenit or the Russian hockey team, "there is a big difference, as all these sporting feats were really serious battles of the highest level, whereas the Eurovision Song Contest is a joke."
Russia had long wanted to host Eurovision and spent most of the last decade sending its biggest stars to conquer the contest. It took Bilan two attempts -- and a performance featuring an Olympic figure-skating champion, a Stradivarius, a miniature ice rink, and a cost of more than $1 million -- to finally win.
For some, it was all worth it.
Standing outside Eurodom, the official party center for the contest, fan Maria Fedoseva, 25, says she loved the idea of Eurovision coming to Moscow, and that she had happily paid 5,000 rubles ($155) for a ticket for the final.
"It is a big celebration that Dima Bilan brought to our country and we're thankful for that," Fedoseva says. "Our country's representatives have created such a celebration for Europe. It's great. In the present situation of the world, it's cool. It's super. We are better."
Russian police officers stand under a sign advertising the 2009 Eurovision song contest in Moscow.
Guests and journalists at the event have been treated lavishly, and the final on May 16 is expected to be the most spectacular in history.
There will be a live link-up with the International Space Station during the final, ITAR-TASS reported and there are rumors that President Dmitry Medvedev -- normally more of a heavy metal fan -- will make an appearance.
Political analyst Boris Kagarlitsky sees the hype and money spent in Moscow as a symptom of the country's postimperial insecurity, with officials looking for any way to show that the country is still as important as in Soviet times.
"It is a way to produce a national idea, national dignity. It's a way for Russia to say that it is still a great power," Kagarlitsky says.
Gay-Pride March
Despite the massive funds being spent, Russia is in danger of having the concert remembered more for the scandals surrounding it.
Before the competition even began, the Georgian entry was rejected for its song choice, whose title appeared to make fun of Putin and was seen as an unwelcome jibe after the war between the two countries last August. Likewise, Russian diplomats in Sweden successfully lobbied to eliminate a potential entry whose act included dancing bears -- a feature that Moscow saw as an unflattering stereotype.
Russian police arrest a participant in the gay rights protest in Moscow.
Also on May 16, members of Russia's gay community
attempted to hold a pride march
in Moscow just a few hours before the start of the final -- defying a ban by city authorities (who nevertheless granted permission for an antigay rally).
Russian riot police broke up the gay-pride parade shortly after it started, arresting an unknown number of gay and lesbian protesters, including British activist Peter Tatchell.
"There is no freedom for gays in Russia," Tatchell said as he was hauled away.
Moscow Mayor Yury Luzhkov has previously called gay-pride parades "satanic."
Activists have been beaten and harassed while marching in previous years. Reports say police did not use excessive force in breaking up this year's parade, however.
Activists had called on contest participants to take part in the parade.
Eurovision had declined to comment on the parade, but has noted that the song contest attracts "a large gay audience," suggesting the city decision to prohibit the march is not in keeping with the Eurovision spirit.
Eduard Murzin, an organizer behind the pride march, said the event was intended to draw attention to how gay rights are restricted in Russia. Formally, homosexuality was legalized in the country in 1993 -- a year before Russia first entered the Eurovision contest.
"The thing is, Russia is trying to show that it is a European country, with a European line of thought and standard of relationships in society," Murzin says. "But in reality, it's not like that."