It is unusual for a president of one country to travel to another to celebrate the opening of an ordinary elementary school.
It's even more unusual when that president does so without informing key officials in the country he's visiting.
But that's just what Serbian President Boris Tadic did on September 8, when he traveled to the town of Pale in Bosnia-Herzegovina to attend a ribbon-cutting ceremony at its freshly built red-brick school, where classes for 600 first- through eighth-graders have already begun.
Neither the Croatian nor Muslim members of Bosnia's tripartite Presidency were consulted about Tadic's trip. The reason for that may have become clear when the Serbian leader, in a speech before hundreds of local officials, schoolchildren, and Orthodox clergy, explained the reason for his visit.
"By opening this school, we're contributing to a great thing: education for our people," Tadic said. "I want to tell you that Serbia, of which I am president, has a responsibility to Serbs wherever they are. Serbia is not responsible for the citizens of Serbia alone; Serbia is responsible for all the people who belong to our nation."
Funding for the school -- provocatively named "Serbia" -- came not from Serbia but from the local government of Bosnia's Serbian entity, Republika Srpska.
But critics say everything from Tadic's presence, to the historically loaded site of Pale, to even the school's provocative name -- "Serbia" -- speaks of a wider plan crafted with Belgrade's approval.
Milenko Dereta, an analyst based in the Serbian capital, says the ribbon-cutting is just the latest salvo in the ongoing Serbian campaign to shatter Bosnian sovereignty and build a unified Serbian nation.
"A real achievement [in tolerance], for me, would be the opening of a school named 'Serbia' in the Muslim-Croat half of Bosnia," Dereta says. "But when it's in Republika Srpska, it's like a cherry on top of a cake or a flag being raised to mark territorial gains."
'Special Relations'
Pale, a sleepy mountain town in a region known to local Serbs as East Sarajevo, was the stronghold of Bosnian Serb leader Radovan Karadzic during the Bosnian war.
Nearly 20 kilometers to the east of Sarajevo, it was a key launching point for the Serbian artillery barrages, under Karadzic's supervision, that killed more than 10,000 Sarajevans during the 1992-95 siege of the city.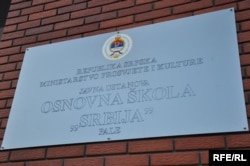 Plaque bears the name of the "Serbia" elementary school in Pale.
The internationally brokered Dayton agreement that ended the war kept Pale, and the rest of Bosnia's Serb-majority territory, as part of Republika Srpska, which together with the Muslim-Croat Federation formed Bosnia-Herzegovina.
Dayton also granted Serbia the right to "special relations" with the Republika Srpska.
But critics say that doesn't extend to building schools named "Serbia" in a town notorious for its tactical contribution to the slaughter of Bosnians in Sarajevo.
Sacir Filandra, a professor at Sarajevo University, notes that Dayton intended to empower Serbia as a peacemaker, not a spoiler.
"The problem is that 'special' and 'parallel' relations [as defined by Dayton] is subject to political manipulation," Filandra says.
The development is particularly worrying at a time when Milorad Dodik, the voluble prime minister of Republika Srpska, is threatening to secede from the state.
At the September 8 opening, children gathered outside the school waved both Serbian and Republika Srpska flags, occasionally flashing the three-fingered salute favored by Serbian soldiers during the war.
Dodik, playing the ebullient host during the school opening, praised the Serbian president as his own.
"It's a wonderful occasion to be here today among the good people of Pale of East Sarajevo, among our people and students, with our guests and with our dear President Tadic," Dodik told the crowd.
A Blind Eye?
For Bosnia's Muslims and Croats, Dodik's antics are nothing new. More upsetting may be the muted reaction of the international community to provocations like the Tadic visit and the "Serbia" school.
Austrian diplomat Valentin Inzko, the high representative for Bosnia and Herzegovina -- whose task, as outlined by Dayton, is to monitor the country's fragile peace -- offered no statement about the Serbian president's trip.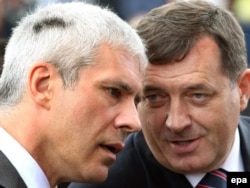 Serbian President Boris Tadic (left) with Republika Srpska's prime minister, Milorad Dodik, in Pale on September 8
Aleksandar Popov, an analyst based in Belgrade, suggests that the West, by turning a blind eye to such events, may be trying to appease Serbia for the loss of Kosovo, a former Serbian province that declared independence last year with the backing of the United States and a majority of EU countries.
"The idea that Serbia could make up for the loss of Kosovo by acquiring Republika Srpska is poisoning us," Popov says. "Serbia could gain much more respect if it would contribute to stability in Bosnia -- if it would cooperate not just with Republika Srpska, but with other parts of Bosnia as well."
Few of Popov's fellow Serbs share his view, however. "Why shouldn't we build a school in Pale?" says one passerby in Belgrade. "I see it as an expression of Serbian unity."
Marija Arnautovic from Sarajevo, Ljudmila Cvetkovic from Belgrade, and Ivan Katavic from Pale contributed to this story