As part of our look back at the year that was, we asked broadcasters, editors, and correspondents representing the 20 countries and 28 languages in which RFE/RL broadcasts to vote on what they thought were the top news events of the year. What stories did they think had the biggest impact? Here are their choices for the Top 10 news stories of 2008.
10. Radovan Karadzic Extradited To The Hague
He was barely recognizable when the world first glimpsed Bosnian Serb wartime leader
Radovan Karadzic
after more than a decade on the run. He had disguised himself behind a bushy white beard and a head of long white hair.
Ten days later, on July 31, a clean-shaven Karadzic appeared before the International Criminal Tribunal for the former Yugoslavia in The Hague, where he faces charges of crimes against humanity and genocide.
Eventually, the man known as the "Butcher of Bosnia" chose to defend himself, refused to enter pleas, and a tribunal judge entered pleas of not guilty to all charges on his behalf.
The trial is not expected to begin for a few months.
Meanwhile, the Balkans' other top fugitive war crimes suspect, Bosnian Serb military commander Ratko Mladic, is still at large.


9. China Hosts Summer Olympics

Athletes and spectators loved the spectacular opening ceremonies and the memorable architecture of many of its sporting venues, while criticizing Beijing's air pollution.
U.S. swimmer Michael Phelps won a record eight gold medals, while Jamaican sprinter Usain Bolt set world records in the 100 meters, 200 meters, and 4-by-100-meter relay -- the first man to do so in one Olympics.
The Games marked the first time that China had hosted an Olympics.
But the choice
sparked controversy
. The Olympic torch relay was disrupted in several cities in protest at Beijing's poor human rights record. China agreed to lift Internet restrictions ahead of the Games, but reports say they're now back in place.
Nevertheless, the Beijing Games are going to be a tough act to follow for 2012 host London.
According to the UN,
rising food prices
around the world have plunged an additional 75 million people below the hunger threshold, bringing the estimated number of undernourished people worldwide to almost 1 billion.
The UN's Food and Agriculture Organization says high food prices reversed what had been positive trends toward achieving the Millennium Development Goal of reducing by half the proportion of people suffering from hunger worldwide by 2015. The organization says that goal "is now even more remote."
The crisis sparked deadly riots and demonstrations around the world, from Egypt to India, Uzbekistan to Georgia.
Economist Jeffrey Sachs called it "the worst crisis of its kind in more than 30 years."
In Haiti, people were reduced to eating patties made of mud, oil, and sugar. "It's salty and it has butter and you don't know you're eating dirt," 24-year-old Olwich Louis Jeune told "The New York Times."
There are already about 65,000 foreign troops in Afghanistan, with more than 30,000 of those coming from the United States. So it says a lot that the United States is pledging to send even more soldiers to the war-torn country, which has witnessed a surge in violence to levels not seen since a U.S.-led toppling of the former
Taliban
regime.
The United Nations says some 4,000 people have been killed in fighting in Afghanistan this year, around one-third of them civilians.
The Pentagon says a total of more than 20,000 extra U.S. troops are likely to deploy to Afghanistan in the next year or two.
One think tank, the International Council on Security and Development, says the Taliban holds a permanent presence in 72 percent of the country, a figure hotly disputed by NATO, the Afghan government, and the United States.
The top commander of NATO and U.S. forces in Afghanistan, U.S. General David McKiernan, has put forward a reconciliation plan that includes empowering local Afghan leaders, including former Taliban members.
On November 26, 10 terrorists staged
coordinated attacks
across India's largest city, Mumbai. Arriving by speed boat, and armed with automatic weapons and grenades, the men took over a number of Mumbai landmarks, including two luxury hotels.
Indian security forces battled the terrorists for three days. In the end, more than 160 people were killed, including some 30 foreign nationals.
Responsibility for the attack was claimed by a Pakistani-based militant group called Lashkar-e-Taiba.
The attacks ramped up tensions between nuclear neighbors Pakistan and India. India demanded that Pakistan take swift action against those responsible.
U.S. Secretary of State Condoleezza Rice urged the Pakistani government to undertake a "robust response."
President Asif Ali Zardari refused to turn over 20 suspected terrorists that New Delhi says are sheltering in Pakistani territory, but said his government would "take strong action against any Pakistani elements" found to have been involved.
On March 2, Dmitry Medvedev, Russia's first deputy prime minister and outgoing President Vladimir Putin's hand-picked successor, was elected in a landslide to become Russia's next leader.
As for Putin, he was shortly appointed as the country's prime minister and is believed to still wield considerable influence over most aspects of Russian life.
In November, Russia's parliament began the process of passing constitutional amendments that extend the presidential term from four to six years.
Some say
the amendments are meant to allow Putin to return to the presidency in 2009, following Medvedev's resignation. Putin could then serve two, six-year terms -- from 2009 to 2021.
Putin did nothing to squelch the rumors earlier this month.
"The next elections in the Russian Federation are in 2012," he said. "We will have to get through to that time, then we will see."
On February 17, Kosovo became the world's newest state, as it unilaterally declared its
independence
from Serbia.
Prime Minister Hashim Thaci said the new country will be "dedicated to peace and stability" and that Kosovo is a "democratic, secular, and multi-ethnic society."
Tens of thousands of Kosovars took to the streets of Pristina, cheering, waving flags, and setting off fireworks.
Serbian President Boris Tadic said Belgrade would react with all "peaceful, diplomatic and legal" means to annul the declaration of independence. However, riots rocked Belgrade just days after the declaration.
Kosovo's independence has so far been recognized by more than 50 UN member states, including the United States, much of Europe, and Japan.
On December 9, the European Union launched its EULEX mission, aimed at bringing order and stability to the fledgling state.
Who started it, and when?
Those questions about the brief but bloody August war between Russia and Georgia over the self-declared republics of South Ossetia and Abkhazia are
still being debated
in the international community.
Russia says Georgia began an unprovoked assault on the South Ossetian capital of Tskhinvali on the evening of August 7. Russia responded by sending troops and tanks into South Ossetia and far into Georgia proper. Georgia says it was only responding to frequent attacks on ethnic Georgian villages by pro-Moscow separatists.
What's not in dispute is the impact of the fighting.
Russia soon recognized the independence of South Ossetia and Abkhazia. Russia's response was criticized as "disproportionate" by the West, and relations between Moscow and NATO, the European Union, and the United States soured into what many have called a new Cold War.
As "Time" magazine said in awarding Obama its "Person of the Year" honors, "He has come to dominate the public sphere so completely that it beggars belief to recall that half the people in America had never heard of him two years ago."
Much of the rest of the world was even less familiar with the politician with the "funny name," although he was drawing
considerably more attention
by July 2008.
On November 4,
voters in the United States
convincingly backed the first-term senator from Illinois in his bid for the White House, making him the country's first African-American to be elected president.
Now comes the hard part -- ending the war in Iraq, as he has promised to do; ramping up the fight against the Taliban in Afghanistan; and confronting the financial crisis that has devastated large sections of the U.S. -- and global -- economy.
Which bring us to the No. 1 story of 2008, as voted by RFE/RL editors, correspondents, and broadcasters.
It's being called the worst
financial crisis
since the Great Depression. And like the Great Depression, the 2008 version began in the United States, but soon spread around the world.
Beginning with the subprime mortgage crisis of September, the situation soon escalated with the bankruptcy of the large investment bank Lehman Brothers. More banks failed. World stock markets plunged. Panic selling ensued. Companies collapsed or laid off workers -- more than 500,000 jobs were lost in the United States in November alone.
The former chairman of the U.S. Federal Reserve, Alan Greenspan, put the unfolding drama into perspective in September when he called it a "once-in-a-century type of financial crisis."
Iceland's banking system collapsed in October, forcing it to ask for help from the International Monetary Fund. Other countries, such as Hungary, Latvia, Ukraine, Belarus, and Pakistan, also sought assistance from the IMF.
Leaders from 20 of the world's rich and developing economies met in Washington in mid-November to discuss a unified response. Calls were made for a dramatic overhaul of the world's financial architecture.
There are now fears for the collapse of the U.S. auto industry, one of the backbones of American industry.
The Fed's key interest rate stands practically at zero, effectively eliminating it as a tool of monetary policy.
In the United States alone, it's estimated that the government's bailout effort has cost $8.5 trillion...and counting, as President Obama plans to enact his own rescue plan once he takes office on January 20.

compiled and written by RFE/RL correspondent Grant Podelco
2008 In Review

RFE/RL looks back at the stories that shaped 2008. More
On The Front Lines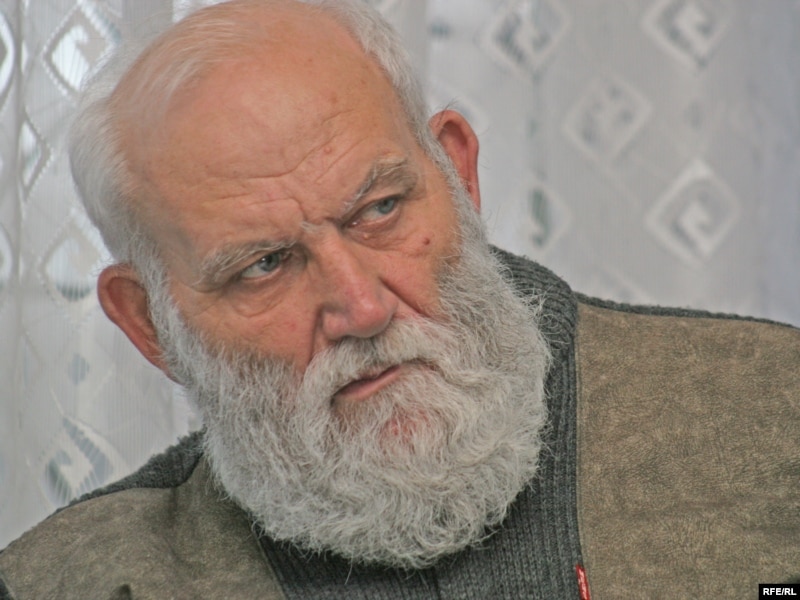 "On The Front Lines" is a special RFE/RL project that spotlights men and women who have dedicated their lives to the causes of freedom of speech, freedom of the press, human rights, ethnic tolerance, and democratic values. More