As Tajikistan prepares to mark the 20th anniversary of its independence on September 9, perhaps no one is looking forward to the big day more than the country's prison inmates.
Some 8,000 prisoners are expected to be set free to mark the occasion. Unofficial estimates suggest there are currently 13,000 people imprisoned in Tajikistan.
There have been 11 amnesties in Tajikistan over the past 20 years. In the most recent, in November 2009, some 10,000 prisoners were released.
Human rights activists and lawyers are taking the opportunity this year to call on the Tajik president to consider releasing two former Guantanamo detainees who were sentenced to 17 years in prison upon their release from the U.S. detention center in 2007.
Human Rights Watch, two prominent American lawyers, and a legal expert from Columbia University in New York have sent letters to Tajik President Emomali Rahmon making the case for Rukniddin Sharopov's and Abdumuqit Vohidov's release.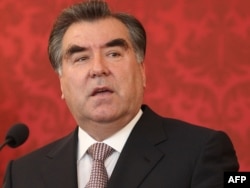 Tajik President Emomali Rahmon
The two men, childhood friends from Tajikistan's northern Sughd Province, have each spent nine years in prisons in Afghanistan, Guantanamo Bay, and Tajikistan for crimes lawyers argue they did not commit.
They were both 19 when they were detained in Afghanistan in 2001.
"It is my expert opinion that a great injustice has been done on the two," writes Matthew J. O'Hara, an attorney for the Chicago-based firm Hinshaw & Culbertson LLP, who outlined the case as follows:

"It is very much plausible that as they have consistently said throughout the years, that they had set out seeking work in 2001 and were fooled and deceived into thinking that they were joining Tajikistan's national army. They were then taken to eastern Tajikistan where their passports were taken away from them by unknown individuals, and later taken likely by helicopter to what they were only told was to be a "warmer place." Only later they find out the place they were taken was Afghanistan. They thus did not traverse the international border by will."
Sharopov and Vohidov maintain that they have never killed anyone, or been involved in terrorist activities or acts of violence.
Once in Afghanistan, the men were unable to return home without any kind of travel document, according to Human Rights Watch.
Closed-Door Trials
The rights watchdog says that following the September 11, 2001, attacks on the United States, and the subsequent U.S. military operation in Afghanistan, Sharopov and Vohidov were captured by Afghan warlords who sold them to the U.S. government agents as terrorism suspects.
They spent five years in the United States' detention center in Guantanamo Bay, Cuba, before being sent back to Tajikistan in 2007. In closed-door trials -- which according to Tajik rights activists lasted no more than eight hours in total -- the men were found guilty of involvement in terrorist activities.
Human Rights Watch writes:
"Their families report that upon their return to Tajikistan, they were tried, but the hearings lasted no more than a few hours over the span of several days. They were defended by government counsel, appointed only on the day of their trials, and upon conviction sentenced to seventeen years imprisonment, of which they have already served four years."
During Tajikistan's 1992-97 civil war and several years following the fighting, it wasn't unusual in the country for young men to be kidnapped, or lured away by unknown groups.
Biloliddin Mahkamov the head of Muldon village in northern Tajikistan told RFE/RL's Tajik Service that a group of men came to Muldon in the late 1990s offering "job opportunities in Russia," a tempting suggestion for poverty-stricken young villagers trying to make a living following the war.
Some 100 young men readily accepted the "offer" and they were taken away in two buses, the village head says. "Later we heard that some of the men got suspicious and got off the bus, while others were driven away and we haven't heard of them since."
According to Mahkamov, there were suspicions that the Islamic Movement of Uzbekistan was behind the incident, because the banned organization was active in the area at the time.
Douglas K. Spaulding, a lawyer for the Washington-based Reed Smith LLP law firm and Naureen Shah, a lawyer and lecturer-in-law for the Human Rights Institute at Columbia University School of Law in New York City have also sent letters to the Tajik President asking him to grant Sharopov and Vohidov amnesty.
The Tajik parliament is expected to vote on the amnesty bill on August 19.
-- Farangis Najibullah