Afghanistan Seeks Clarification Over 'Dead Migrants' Video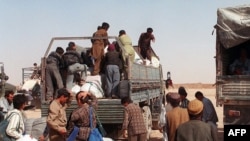 KABUL -- Afghanistan's Foreign Ministry says it is seeking clarification about a
video aired on Afghan television
that purportedly shows dead and wounded Afghan migrants in Iran, RFE/RL's Radio Free Afghanistan reports.
The video, aired by private channel Tolo TV on December 31, shows a number of bodies strewn across a road, including that of an apparently wounded man, while men described as Iranian border guards stand alongside.
It's unclear when the video was recorded, or what the circumstances of the incident are.
Foreign Ministry spokesman Ahmad Zaher Faqiri told RFE/RL today the ministry had raised the matter with Iranian officials.
"Our colleagues at the Islamic Republic of Iran's Embassy in Kabul and at the Embassy of Afghanistan in Tehran are following the issue," Faqiri said.
"We have urged them to talk to officials in charge and provide us with a detailed report."
An estimated 1.5 million Afghans live in Iran, including refugees and those staying there illegally.
Their treatment has become an increasingly sensitive issue in recent months after a number of Afghans convicted of drug smuggling were executed in Iran.