WATCH: Hundreds of Afghans demonstrated on September 21 to mourn Burhanuddin Rabbani and condemn his assassination. Mourners carried pictures of the slain leader, while many others wore black headbands. (AP video)
By RFE/RL
Afghan President Hamid Karzai has cut short his visit to the UN General Assembly in New York to return to Kabul to deal with potential turmoil after the assassination of former President
Burhanuddin Rabbani
.
Karzai was expected to conduct an emergency cabinet meeting in Kabul while preparations were being made for the funeral of Rabbani, a powerful ethnic Tajik factional leader from northern Afghanistan who headed the country's High Peace Council.
Rabbani was
killed on September 20
at his Kabul home by a suicide bomber who hid explosives inside his turban.
Afghan government officials told RFE/RL the bomber claimed to be a senior Taliban commander who had requested a meeting. NATO said there were two suicide bombers who both pretended to be interested in peace talks.
WATCH: Afghan police rush to the site of the attack (AP video)
Today, hundreds of Afghans gathered near Rabbani's house in Kabul's diplomatic quarter to remember him and to protest his killing. Some carried pictures of the slain leader, while many others wore black headbands.
Government forces stepped up security in the diplomatic zone, barring cars from entering the area and searching many people on foot. As mourners gathered at the front gate of Rabbani's house to sit and recite the Koran, government officials also stopped by to pay their respects.
It was not immediately clear whether Rabbani's funeral would be in Kabul or in his home province of Badakhshan in northeast Afghanistan.
Chequered Rights Record
Rabbani, who had a chequered human rights record, was president during Afghanistan's bloody 1992-96 civil war, the period when much of Kabul was destroyed by rocket fire and fighting between mujahedin factions who turned on each other after driving the Soviet army out of Afghanistan.
Rabbani himself was driven from leadership in Kabul when the Taliban rose to power in the mid-1990s and became a key member of the Northern Alliance that fought against Taliban rule.
He also was a political ally of ethnic Tajik military leader
Ahmad Shah Masud,
the mujahedin commander who was assassinated by two Al-Qaeda suicide bombers on September 9, 2011.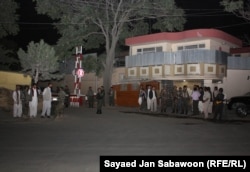 Afghan police officers secure the alley leading to Rabbani's house after the suicide attack.
During the past year, Rabbani had led government efforts -- but made little progress -- on negotiating an end to the fight against the Taliban in Afghanistan. In March, Rabbani told RFE/RL's Radio Free Afghanistan that he was optimistic about the prospects of negotiating with the Taliban.
"We have begun contacting [the Taliban]. We also held some meetings, and such meetings are continuing," he said. "We are also exchanging letters. But our contacts have not matured to level that we can make them public."
But Kabul-based Afghan analyst Waheed Mozhdah says that, since that time, Rabbani had lost faith in the Taliban's willingness to negotiate an end to the war. Mozhdah said he spoke with Rabbani just a few days ago.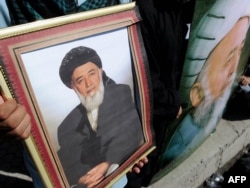 Supporters carry a portrait of Burhanuddin Rabbani aftter he was killed in a suicide attack in Kabul.
"In recent times, Rabbani was very disappointed with the Taliban. He used to say that they are not prepared for peace. He adopted a strong anti-Taliban posture," Mozhdah said. "Some of his friends even criticized him for being so critical of the insurgents while his job as the head of the peace council was to reach out to them. It appeared that he was weary of leading the peace council and was looking to resign from its leadership."
Blow To Peace Efforts
Regardless of whether Rabbani was capable of brokering peace in a country ripped apart by three decades of war, his assassination is a deep symbolic blow to the government's peace efforts.
As an ethnic Tajik, Rabbani's killing may also further upset delicate and sometimes tense relations between Afghanistan's different minority ethnic groups and the dominant Pashtun community.
Speaking before leaving New York, Karzai said Rabbani's death "will not deter us" from pursuing peace. He spoke alongside U.S. President Barack Obama before the two leaders held private talks on the sidelines of the UN meeting.
"The mission that he had undertaken was vital, Mr. President, for the Afghan people and for the security of our country and for peace in our country," Karzai said. "We will miss him very, very much. I don't think, Mr. President, that we can fill his place easily."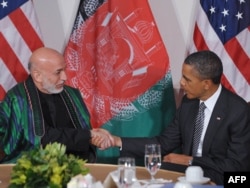 U.S. President Barack Obama and Afghan President Hamid Karzai meet in New York following Rabbani's assassination.
Obama condemned Rabbani's death and called it "a tragic loss." But he also said that he and the Afghan leader were determined to continue to find a negotiated settlement to end the war.
"We both believe that despite this incident, we will not be deterred from creating a path whereby Afghans can live in freedom and safety and security and prosperity," Obama said, "and that it is going to be important to continue the efforts to bring all elements of Afghan society together to end what has been a senseless cycle of violence."
Rabbani's death also raises concerns about deteriorating security in Afghanistan. His assassination was in the heart of what is supposed to be one of the most secure districts of Kabul and comes just a week after Taliban fighters carried out a 20-hour siege of nearby Western embassies and a NATO compound.
written by Ron Synovitz, with contributions from Heather Maher, Abubakar Siddique, and agency reports