A proposed law requiring that Afghans observe Shari'a standards of modest dress at weddings is causing outrage in Kabul.
Some say it sounds like the Taliban is returning.
"How you dress up is a personal matter. I think that interfering in such personal issues is like interference into people's family life," said Abdul Samie Safi, a young law graduate of Kabul University. "I am against monitoring weddings. It is inadmissible to interfere into either the personal or family affairs of people."
He and several other young people spoke out against the proposed law when a talk show aired by RFE/RL's Radio Free Afghanistan addressed the subject recently. "Fekre Naw" (New Thinking) invites young Afghans to air their opinions on government policies and is one of few such programs in the country.
At first glance, the new law might not appear particularly contentious. The Justice Ministry says it wants to put restrictions on weddings because the amounts of money being spent on lavish celebrations and competitive gowns and dresses is so great that many Afghans cannot afford to marry or, if they do, are driven into debt.
But the law also proposes setting up committees to monitor weddings to ensure that ladies are modestly attired and that male and female guests do not mix in the same room. And that takes direct aim at how much freedom young Afghans have and, more broadly, at the growing influence of Western values upon modern Afghan society.
Lighting Up The Night
That the wedding halls are Western-style symbols -- and big ones -- no one can dispute. The four- and five-story cement-and-glass structures rise up like monuments to post-Taliban Afghanistan in almost every large city, lighting up the night with neon facades. Just one of the many in Kabul, the towering Sham-e Paris, or Evening in Paris, is crowned with miniature Eiffel Towers and neon fruit trees and offers bridal parties a pick-up service with stretch limousines.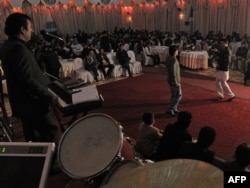 Young Afghan men dance during a wedding in Kabul. Such halls can seat as many as 1,200 people and cost thousands of dollars to rent.
Inside, the largest wedding palaces have halls that can seat as many as 1,200 people and cost thousands of dollars to rent for an evening, in a country where the average annual income is less than $400. What the groom's family gets for that money is a public place that, over time, has come to be regarded as a private space where guests can have a degree of freedom traditionally only enjoyed in homes.
That includes Western dress codes that, sometimes, see brides appearing in Hollywood-style wedding gowns with bare shoulders or low necklines. And it can include abandoned dancing on both the men's and ladies' sides of the partitioned hall, plus some visiting between the two sides.
Given the size and costs of the weddings, some hosts might welcome the ministry's proposal to limit their scale. The proposal, which is now being considered by President Hamid Karzai's cabinet, calls for restricting the number of guests to 300 and spending no more than about $5 per person.
But the Justice Ministry's proposal for policing committees, whose members would include representatives of the Religious Affairs Ministry and enforce Shari'a-compliant dress, raises questions of whether the law's real purpose is more far-reaching.
Memories Of The Taliban
Habiba Danish, a young Afghan member of parliament who took part in the talk show, spoke out forcefully against the proposed legislation. "I personally won't vote for this, because the [mullahs] will take advantage of it," he said.
For many, the committees recall the way the Taliban used to police weddings to ensure they observed the hard-line militia's ban on music and dancing, both of which it considered against Shari'a.
During the Taliban era, members of the vice-and-virtue department patrolled the streets, beating and arresting men if their beards were too short and women if they were out without a male relative.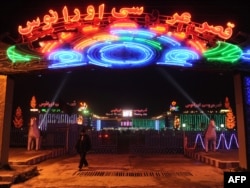 The four- and five- story cement-and-glass wedding halls rise up like neon monuments to post-Taliban Afghanistan.
Some critics of the Justice Ministry's proposed new law believe it could be an effort by the government to reach out to the Taliban as it tries to bring the militia into peace and reconciliation talks.
"I think that the government is bringing up this issue for a political purpose, to make the Taliban happy, as well as to show that it is taking the initiative in trying to safeguard family budgets," said Siar Anwari, a young activist. "In my opinion, the proposed law is not practicable. The government only wants to attain its purpose and the result will be to leave behind a social problem for us. Frankly, it is insulting that the government wants to interfere in people's weddings."
The proposed law not only would limit wedding spending and set up committees for policing weddings, it also would bar fashion shops from selling wedding clothes considered too revealing. Shopkeepers who continued to sell clothes that did not comply with Shari'a dress codes would be fined and, if they persisted, closed down.
The proposal does not spell out exactly what Shari'a standards would be applied but bans selling of "outfits that are semi-naked, naked, transparent, or tight in a way that reveals part of the woman's body."
It is not yet clear when the cabinet will take up consideration of the proposed law or, if it does, whether it would be approved. If approved by the cabinet, it would have to also be approved by the parliament to become law. It would then be up to the Justice Ministry to define how it would interpret and define the law in practice.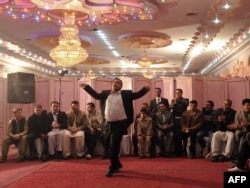 The halls are regarded as a private space where guests can enjoy a degree of freedom traditionally only found at home.