Lida insists she has been unfairly jailed for a crime she didn't commit.
"I've already spent seven years in prison," Lida says. "I want freedom. Being locked up for six-seven years is enough punishment for any crime. Holding us here for longer only provokes resentment."
That said, the inmate at Badam Bagh women's prison in Kabul admits things could be a lot worse.
Lida and more than 160 other women -- and in some cases their young children -- are housed in the modern, three-story prison located in the Afghan capital's Tahya Maskan region. They are allowed to wear colorful traditional clothes, can freely move about the prison, and are guarded by an all-female staff. Each cell is equipped with a television, and literacy, computer, dressmaking, and embroidery classes are available, among others.
That's a far cry from where Lida, who declined to give her full name, served the first years of her 16-year murder sentence. At Kabul's notorious Pul-e Charkhi prison she was incarcerated under appalling conditions along with some 5,000 male inmates. Female inmates had separate cells, but were watched over by male guards.
After reports and complaints emerged that female inmates had become subject to sexual exploitation in prisons and detention facilities in Badghis, Ghor, and Logar provinces, the fortunes of women inmates began to change for the better.
In the past three years, the first Afghan women's prisons, including Badam Bagh, were built with the help of Western donors in Kabul and several other cities, including Herat in the country's west, and in the northern town of Khost.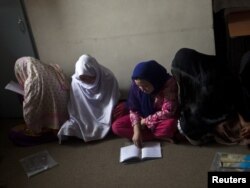 Inmates attend a literacy class during a media event at a women's prison in Kabul.
Prison is prison, but in Badam Bagh, inmates say they live in "bearable conditions inside a clean building," and, most importantly, no longer live in fear.
Activists, including Afghanistan's Independent Human Rights Commission (IHRC), have welcomed the efforts to finally build separate prisons. "However," IHRC adviser Ghulam Nabi Hakak notes, "with the exception of a few big cities and provinces, there are no separate prison buildings for female inmates in other places."
He adds that in the provinces of Panjshir, Kapisa, Logar, Maidan-Wardak, and others, "female inmates there are kept in cells inside men's jails. It is not easy or safe for them even to go to the bathroom there."
'Moral Crimes'
Hakak explains that because of the lack of special prison and detention centers for women in many provinces, female suspects are usually handed over to so-called guarantors or protectors for temporary custody until their court cases can be concluded.
Such guarantors -- appointed by the courts -- are usually a man, often a powerful, high-ranking official. Hakak says the practice is "completely unacceptable, as it leaves the woman vulnerable to all kinds of abuse and exploitation, and there is no one to defend her."
The IHRC says that in one case, a guarantor in the eastern Logar Province raped a young teenage suspect under his custody.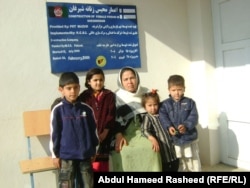 A woman prisoner in Shiberghan prison with her children.
Hakak says opening separate jails for women in modern facilities only solves some of the problems facing female prisoners in Afghanistan.
A major outstanding issue, he says, is the violation of women prisoners' legal rights.
Among Afghanistan's 500 or so female inmates, dozens were convicted of murder or theft. But many others were imprisoned for crimes of morality that aren't actually listed as a criminal offense in the country's Penal Code.
There are numerous cases when women were sent to jail for escaping from their abusive husbands and in-laws, or for merely chatting with men who were not their relatives. "Leaving your home is not a punishable crime by the law, so such cases are referred to Shari'a laws, and women get sentenced for immoral behavior," Hakak says.
Resigned To Their Fate
Abandoned by relatives, and with nowhere else to turn, many female suspects find themselves unable to pay for a lawyer to defend them. Many simply don't know their rights or have no idea how to seek legal advice.
"There are so many women who succumb to court rules because they don't know how to defend themselves," Hakak says. "They pay a heavy price for something they might not have done."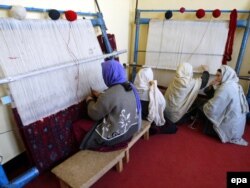 Women prisoners work at a carpet loom inside a prison in Herat.
If prison is their fate, steps are now being taken to make sure some good can come out of it.
Deputy Justice Minister Mohammad Qasim Hashimzai, for example, says that several nongovernmental organizations are engaged in "helping women prisoners in learning new skills so they can more easily reintegrate into society after they're released from jail."
But many imprisoned women are skeptical about whether they will ever be able rebuild their lives or be accepted back into Afghanistan's deeply conservative society. Even close relatives distance themselves from a woman who has "dishonored" the family by being sentenced to prison.
Honor is a sensitive issue in Afghanistan. Maryam, a 9-year-old girl who lives in Badam Bagh along with her imprisoned mother, knows that too well.
"Everything is good in prison but living here harms one's reputation," Maryam says. "Women outside might say about my mother, 'Perhaps she wasn't a good woman that she has been imprisoned.'"
The stigma is also shared by some 50 children who live in Badam Bagh alongside their convicted mothers. Ten-year-old Qais, whose mother has been imprisoned for crimes of morality, says he, too, "must have done something very wrong."
"I have learned my lesson inside the prison," Qais says. "I won't commit a crime. I would like to be free."