Whenever cornered, Mahmud Ahmadinejad always seems to come out swinging. But Iran's notoriously abrasive president appears in danger of suffering a knockout blow over his political attachment to Esfandiar Rahim-Mashaei, a man widely seen as a threat to the country's clerical-based political system.
What had been a long-rumbling but low-intensity row has now become so rancorous that it appears Ahmadinejad has lost the political support of his onetime patron, Ayatollah Ali Khamenei, Iran's supreme leader, who has the final say on all state matters.
And dislike of Rahim-Mashaei, the president's chief of staff whom he is believed to have anointed as an eventual successor, has grown so visceral and widespread that some believe it has reduced Ahmadinejad to a lame duck and may even prevent him completing his second term.
Matters appeared to reach crisis point this week when it emerged that several presidential aides -- including two known to be close to Rahim-Mashaei -- were arrested by the security services.
One, Abbas Ghaffari, was said by Tehran's chief prosecutor to be involved with spirits and exorcism. Another, Abbas Amirifar, head of the president's cultural office, was linked to a controversial recent film, "The Appearance Is Imminent", which praised Ahmadinejad -- as well as Khamenei -- for paving the way for the return of the 12th imam, one of Shi'a Islam's holiest figures, whose return to earth is supposed to herald a new era of peace. The president's messianic forecasts for the return of the imam are deeply controversial to many clerics, who believe he is unqualified to preach on religious affairs.
Scott Lucas, head of the EA World View website and an Iran specialist at Birmingham University in England, says the accusations against his aides are symptomatic of the Islamic republic's biggest political crisis since the disputed 2009 presidential election, which reformists claim Ahmadinejad stole.
"Mr. Amirifar was arrested apparently in connection with this controversy that claims the Hidden Imam is about to return and that the president is a prophet who is welcoming that," Lucas explains.
"Mr. Ghaffari was effectively accused by conservative websites of being someone who called up spirits, who dabbled in the black arts -- again this supposed connection that Ahmadinejad's enemies are making of Ahmadinejad and Rahim-Mashaei being involved in this mysticism around the Hidden Imam," he continues. "One of the websites said that the interrogator of Ghaffari had suffered a heart attack because of Ghaffari's skill in the black arts. The fact that the tales are out there and that they are escalating is a sign that there is a very heated political dispute going on."
President Rebuked By Supreme Leader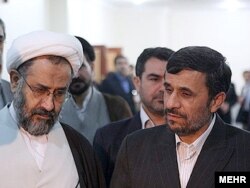 Ahmadinejad (right) was prevented from firing Intelligence Minister Heydar Moslehi.
The arrests followed a public disagreement between Ahmadinejad and Khamenei over the president's attempted firing on April 17 of his intelligence minister, Heydar Moslehi. Having been ordered by the supreme leader to reinstate the minister, Ahmadinejad responded with an 11-day disappearing act -- failing to show up at cabinet meetings and missing a host of scheduled public engagements, including a trip to Qom, home to Iran's religious establishment, where he is increasingly mistrusted.
While the row appeared to be over control of one of the Islamic republic's most sensitive ministries, the trigger seems to have been Rahim-Mashaei. The "Los Angeles Times" reported on May 2 that Ahmadinejad had tried to dismiss Moslehi after it emerged that Rahim-Mashaei's office had been bugged by the Intelligence Ministry and the Islamic Revolutionary Guards Corps (IRGC).
Ahmadinejad only reemerged from what has been described as a prolonged sulk on May 1, when he chaired a cabinet meeting. Moslehi is reported by some accounts to have been asked by the president to leave the cabinet's most recent meeting, on May 4. Meanwhile, Ahmadinejad has had to endure the indignity of a chorus of public warnings from senior clerics close to Khamenei about the need for obedience to the supreme leader.
On May 2, Hojatoleslam Mojtaba Zonnur, the supreme leader's representative to the IRGC, criticized Ahmadinejad's relationship with Rahim-Mashaei as "unusual, extreme, and deviational." He added: "Today Mashaei is the actual president. Mr. Ahmadinejad has held on to a decaying rope by relying on Mashaei." In remarks that appeared to presage the arrest of his aides, he also accused the president of pursuing "spiritual politics."
Even Ayatollah Mohammad-Taghi Mesbah-Yazdi, a hard-liner once seen as the president's religious mentor, has publicly warned that disobeying the supreme leader is tantamount to "apostasy" under Iran's system of velayat-e faqih, or rule by an Islamic jurist.
Skeletons In Mashaei's Closet
Hostility to Rahim-Mashaei stems partly from opposition among clerics to his idea of a nationalistic "Iranian Islam" which many view as a threat to the foundations of the country's theocratic system. Equally toxic to Ahmadinejad's right-wing critics were his 2008 remarks that Iran was a friend to "the people of Israel."
But according to Meir Javedanfar, an Iranian-born commentator with the Israel-based Middle East Economic and Political Analysis Company (MEEPAS), the hatred is fueled by an even more damaging allegation -- namely that Rahim-Mashaei has family links to the Mujahedin-e Khalq Organization (MKO, aka People's Mujahedin of Iran), a leftist opposition movement regarded by Iran and the United States as a terrorist group: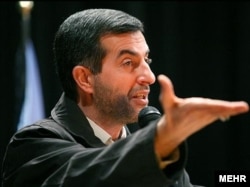 Will Esfandiar Rahim-Mashaei do what opposition protesters were unable to do, end Ahmadinejad's reign as president?
"There are questions about Mashaei's past," says Javedanfar, citing a book by a right-wing Iranian writer "which basically says that Mashaei's brother was a member of the Mujahedin-e Khalq [and] was killed in a botched bank robbery in northern Iran in the city of Ramsar. However, his file mysteriously disappeared once Mashaei started climbing up the ladders of power."
Javedanfar adds that the same book says that "Mashaei's first wife, she basically was a member of the Mujahedin-e Khalq [whom] the Revolutionary Guard intelligence arrested and Mashaei was asked to interrogate her. Instead, he fell in love with her and later on he married [her]. These are very serious allegations and there are many people who actually believe these allegations."

The End Of Ahmadinejad?
Whatever the truth, observers agree on one thing -- that Ahmadinejad has been badly weakened by his recent run-in with Khamenei and that critics in parliament, led by the conservative speaker, Ali Larijani, will be emboldened.
Lucas believes recent events may signal Ahmadinejad's political demise and doom his plans to create an enduring political legacy by having Rahim-Mashaei replace him as president in 2013.
"I do think we are looking at a crisis which may effectively mean the fall of Ahmadinejad," Lucas says, "not necessarily that he will be removed from office, either through an internal coup or through impeachment, through the parliament. Rather I think Ahmadinejad is going to be pushed into a corner. He is going to have to accept a relatively lame-duck position as the president, to stop these grabs for power which he has been trying for years.
"I think you are going to see people hitting back. There will be a chipping away at his economic and his political moves and the legacy he has tried to establish. I think he will be forced to make the concession that he cannot name his successor, that he cannot basically put Rahim-Mashaei in to succeed him and carry out his project."
However, Ali Ansari, head of Iranian studies at St. Andrews University in Scotland, cautions that rumors of Ahmadinejad's political death may be exaggerated.
"Ahmadinejad being the sort of character he is, I don't think he's going to go down without fighting and this slight riposte in his direction I don't think is enough to put him in his place," Ansari argues.
"He's probably been slightly bruised. His ego has been slightly damaged but he will probably come back and find other ways to get back. That's just the nature of the man. He feels that he really is the center of popular attention and my guess is that he will interpret this very much as Khamenei having been ill-advised.