Mustafa Abdel Jalil, the head of Libya's National Transitional Council, has made his first public appearance in Tripoli, telling a fervent crowd at Martyrs' Square that there will be "moderate" Islamic rule for the country.
Speaking to thousands of jubilant supporters who gave him a hero's welcome on September 12, Jalil said Libya's new government "will not accept any extremist ideology."
"We are a Muslim nation, with moderate Islam, and we will maintain that so you remain with us and you support us," he said. "You are our weapon against whoever tries to hijack the revolution, from the right or from the left."
Jalil said "moderate Islam" would be the main source of legislation in Libya following the ouster of Muammar Qaddafi from power after a six-month uprising and civil war.
"It is a great honor for anyone to stand before this crowd in this situation and on this occasion, at a time when Libya and all Libyans are getting rid of the tyrants and the Libyan people emerge dignified and honored by their action and courage," Jalil said.
Entrenched Qaddafi Forces
Meanwhile, a defiant Qaddafi vowed from hiding to battle on until victory as his forces launched surprise counterattacks on three fronts.
On the battlefield, Qaddafi's remaining forces launched ferocious attacks September 12 on the oil refinery town of Ras Lanuf in the east, on the road toward Qaddafi's hometown of Sirte, and at Bani Walid about 180 kilometers southeast of Tripoli.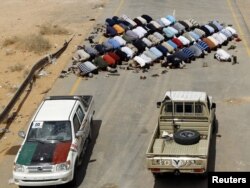 Rebel fighters pray at a checkpoint near the town of Abu Grein, some 160 kilometers west of Sirte.
Although anti-Qaddafi fighters now control most of Libya, pro-Qaddafi troops and tribal fighters have entrenched themselves at Sirte, Bani Walid, and in the southern desert town of Sabha.
Niger's government has confirmed that at least 32 members of Qaddafi's inner circle have fled into Niger, including at least one of his sons and several of his top-ranking military generals.
The National Transitional Council says a large amount of gold and cash also has been smuggled from Libya's central bank reserves into Niger, giving Qaddafi the ability to continue paying fighters to continue the battle.
Leadership Urges Restraint
In his speech in Tripoli on September 12, Jalil urged those still fighting against Qaddafi's troops not to carry out retribution against suspected mercenaries or pro-Qaddafi fighters.
"[We need] unity, rejecting fear and envy and [seeking] no retaliation or injustice," he said.
In London, a
new report released by Amnesty International
accuses Qaddafi's regime of crimes against humanity on a massive scale. But it also accuses anti-Qaddafi fighters of killing captured Qaddafi loyalists and suspected mercenaries during the earliest days of the uprising against Qaddafi's rule.
Titled "The Battle for Libya -- Killings, Disappearances, and Torture," the Amnesty International report says some Qaddafi loyalists were "beaten to death, at least three were hanged, and others were shot dead after they had been captured or had surrendered."
The report concludes that the National Transitional Council faces a difficult task of "reining in" anti-Qaddafi fighters and vigilante groups "responsible for serious human rights abuses, including possible war crimes." It says Libya's new interim government has so far "shown unwillingness to hold them accountable."
The World Bank on September 13 said it has recognized the National Transitional Council Libya's official government. "We are ready to support the people in Libya. Our experts have started coordinating with their partners already and we are moving fast to begin work," World Bank Managing Director Sri Mulyani Indrawati said.
The International Monetary Fund (IMF) has also recognized the council's authority.
Also on September 13, Canadian Foreign Minister John Baird said Canada has obtained UN approval to unfreeze $2.2 billion in Libyan assets for humanitarian aid, and that Ottawa is ready to reopen its embassy in Tripoli.
compiled from agency reports