NEJRAB, Afghanistan -- One of the key strategies for stabilizing Afghanistan is to let people elect district councils and have a voice in local affairs.
But if the strategy, backed by the United States and Britain, is seen as a good way to give people a greater connection to the government and isolate insurgents, the obstacles the councils face are formidable.
A recent visit by RFE/RL's Radio Free Afghanistan to one district council showed that the biggest obstacle is not necessarily the Taliban, which in some areas has assassinated council members in a bid to set back the program. Instead, the biggest obstacle can be the resistance of other local authorities to cede any real power to representative bodies.
For the district councils, that power is supposed to include a major voice in how central government money is spent on local services, such as schools and health clinics. It is also to include being a much-needed channel for popular grievances to directly reach higher officials.
The district council for Nejrab, in Kapisa Province, meets to discuss local issues.
But, as a visit to the district council in Nejrab, one of the six districts of Kapisa Province, shows, an elected body's authority can be so constrained that it is unable to make any difference in its district's life. And that can only deepen a population's feeling that it remains trapped between rapacious officials, on one hand, and a cruel insurgency on the other.
It is not a subject which many district council members feel they can talk about with impunity. So our guide in Nejrab, Abdul Ghiaf Aabi, who is the head of the security committee of his district council, is an exception.
Warlords Muscling In
The first detail he provides is telling. The council is supposed to have 45 members, and these were elected in a districtwide election with secret ballots last year. But today the council has 49 members.
Why? Because two powerful warlords in the district each pushed two of their own people onto the council just months after it was formed.
Some day, perhaps when Afghanistan has a strong central government capable of intervening at the local level, the council might feel strong enough to object to a warlord's loading of its membership. Not today. The council acquiesced and, in doing so, made the first of what would become a series of humiliating but necessary compromises to its dream of representative government.

The next blow came when it received some funds with which to address community needs. An Arab organization sent money to help 200 poor people. But the benefactor sent the money to the district chief who, along with the district police chief, is appointed by Kabul.

That set up a tug of war between the appointed and elected powers in the district. The confrontation was historically significant because it was unprecedented, but it was also one the council lacked the power to win.
"We received information that an Arab organization wanted to help the people of Nejrab, especially orphans and widows. They received a list of needy people from us, but the list was not followed because on the day of distribution rich people with cars and owners of stores received the aid," Aabi said.
"The governor of the district refused to get involved and police took all the materials and distributed them as they wished. Only some 40 people of the needy people from our list got aid, while the rest was looted."
Such stories are common in Afghanistan and are difficult to independently confirm. But the reason they are common is the country's centuries-old tradition of officials abusing their power -- exactly what the creation of representative councils is meant to remedy. Without a countersystem of rule of law, however, council members have no way to challenge the local powers, which have money, guns, and men.
Once the Nejrab council's relations with the district officials soured, they never recovered. Since its formation, the council has passed 24 resolutions meant to express the local will of the people and bring it to the government's attention. None has been accepted by the district chief or by the governor of Kapisa Province.
As for finding allies in other high-level representative bodies, that, too, has proved difficult. A Kapisa provincial council exists but it equally is an institution struggling against the entrenched position of the provincial governor -- who is appointed, or accepted, by Kabul.
Endless Delays
Now, left largely to its own devices, the Nejrab district council finds itself doing an odd-job version of trying to serve the people it was elected to represent. Aabi says it has been able to undertake some reconstruction projects of its own. And, perhaps more importantly, it has been able to monitor the progress of larger reconstruction projects in the area in an effort to keep them on schedule.
He says one goal of the monitoring is to stop the endless delays that come with contractors stopping work at the first report of security problems in an area. The council has set up a quick-response system of its own to determine when reports are true or false.
"We heard on Radio Afghanistan that a number of insurgents were killed during air attacks by coalition forces in Kapisa Province and the report said there was still fighting going on," Aabi said.
"But members of the Provincial Development Council were in the area and they reported that the air attacks didn't happen. That meant there was no Taliban force there, the area is secure and therefore, reconstruction should continue."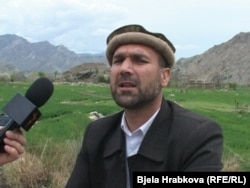 Abdul Ghiaf Aabi, head of the security committee of the Nejrab district council.
More frequently, the council today spends its time substituting for another marginalized or cowed institution in many parts of rural Afghanistan: the court system.
The council tries to use its popular support to arbitrate cases which judges, who dare not challenge warlords and other powers, ignore. They can range from what is politely termed "domestic" disputes to theft.
In some districts, the domestic disputes take this form: loyalists of a powerful warlord forcibly abduct and repeatedly rape a girl as young as 12 years old. To cover the crime, the warlord then tells the local mullah to marry the girl to the underage son of one of the men, effectively making her that family's chattel. The girl, and her powerless parents, suffer immense grief with no one to turn to.
Aabi won't speak of how the council tries to address such cases, but the remedy usually is to try to release the girl from the marriage. Ideally, she and her family also would be relocated to somewhere they can start a new life. As for justice, or lack of it, that is in the hands of the warlord himself.
But the district councilor will talk about efforts to resolve less dangerous cases. One is an elopement which set two families against each other but, with the council's arbitration, ended happily in a wedding.
It is impossible to know from a visit to just one district council how well similar councils across Afghanistan are faring when each faces its own local challenges.
But it is sobering to take stock of how little success a council can have when it tries to provide representative government in places where previously no such form of government has existed.
The councils themselves are part of a pilot program launched in early 2010 and backed by the British and American governments whose goal is to have 100 directly elected district councils functioning by July this year.
The pilot program builds upon another effort over the past eight years to get more popular input into local decision making: village-level development councils. The function of the development councils -- which are sponsored by the Ministry of Rural Rehabilitation and Development and are formed by district-wide jirgas -- is limited to advising authorities on reconstruction needs.
But like much in Afghanistan, the effort to now move from development councils to district councils and a greater level of local representative government is bedeviled by uncertainty -- even within the national government itself.
Abdul Khaliq Farahi, head of the Afghan Independent Directorate of Local Governance, told Radio Free Afghanistan this week that Kabul wants district-level councils in every province. But he said their role and duties still need to be officially defined and that requires the approval of the national parliament.
"In the provinces we have provincial councils, which are elected. Of course, we want district-level councils, too, but we need a constitutional process for them approved by the national assembly," Farahi said.
That leaves existing district councils such as the one in Kapisa in a legal limbo which currently only underlines their powerlessness to make their opinions count.
And it can't help but raise serious questions about how and when ordinary Afghans finally will be able to help create the grass-roots political structures which Afghanistan needs in order to leave the Taliban no room to operate.
written by Charles Recknagel in Prague; Radio Free Afghanistan correspondents Ahmed Hanayesh in Kapisa Province and Zarif Nazar in Prague contributed to this report