Arab Gulf foreign ministers have ended discussions with a Yemeni government delegation in Dubai on an initiative to end a months-long standoff between protesters and authorities in Yemen.
In a joint statement after the talks, the ministers said they discussed various ways to settle the conflict but announced no details or firm plans.
Foreign ministers of the Gulf Cooperation Council, which brings together Bahrain, Kuwait, Oman, Qatar, Saudi Arabia, and the United Arab Emirates, have been attempting to mediate a process that would result in President Ali Abdulah Saleh's departure from power.
On April 19, the United Nations Security Council held a closed-door meeting about the crisis in Yemen but was unable to agree on a joint public statement about the situation.
Meanwhile, Yemeni forces reportedly opened fire on antigovernment protesters again, killing three people on April 19.
The most recent reports say at least one police officer was killed in the city of Aden on April 20.
More than 120 people have been reported killed in the past two months of protests calling for the end of Saleh's more than 30-year rule.

compiled from agency reports
Liveblog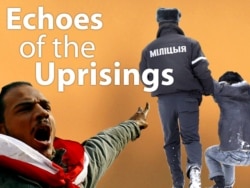 Tracking events and ideas convulsing the Arab world and with ripples around the globe, including RFE/RL's broadcast region.
Click here