WATCH: Scenes from the march and accompanying demonstration in the Armenian capital, Yerevan, on March 1, the anniversary of postelection bloodshed in 2008. (Video by RFE/RL's Armenian Service)
By RFE/RL
Armenian opposition leader Levon Ter-Petrossian has ramped up pressure on that country's leadership, again rallying thousands of supporters in Yerevan and telling authorities to hold snap elections or face a popular revolt.
In what he called a "last warning," the most senior leader of the opposition Armenian National Congress (HAK) also presented President Serzh Sarkisian with a long list of other demands, including the release of all jailed opposition members. He gave Sarkisian two weeks to accept at least "a considerable part" of those demands and start negotiating with the National Congress over the conduct of early presidential and parliamentary elections.
"From now on, rallies held by the Armenian National Congress are turning from current political actions into a sort of forum for the public's self-rule, which will have the full authority to make decisions and put them into practice," Ter-Petrossian said.
Sustained Action
On February 18, Ter-Petrossian's National Congress began a new campaign of antigovernment protests with its biggest demonstration in nearly three years. Then bigger numbers turned out for a February 25 rally timed to coincide with the third anniversary of the bloody suppression of Ter-Petrossian's massive 2008 protests sparked by a disputed presidential election.
Now, on the third anniversary of the clashes between opposition protesters and security forces, demonstrators marched to the original scene of the protests, where 10 people died and more than 200 others were injured. A candlelight vigil was held there earlier in the day.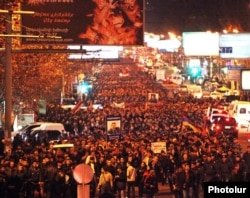 Official estimates were of 9,000-10,000 demonstrators in Yerevan, while Levon Ter-Petrossian insisted 50,000 were on hand.
Addressing the crowd before the march, Ter-Petrossian read out a 13-point ultimatum addressed to the authorities. The demands include the release of about a dozen Ter-Petrossian loyalists still in prison; an independent inquiry into the 2008 bloodshed, and the sacking of several high-ranking state officials, including Prime Minister Tigran Sarkisian.
The opposition bloc also demanded sharp rises in the official minimum wage and pensions as well as the scrapping of several unpopular government decisions made in recent months, including the introduction of mandatory car insurance and a controversial ban on street trade in Yerevan.
Time 'Running Out'
Ter-Petrossian -- who estimated the crowd at 50,000, well above the Armenian police estimate of 9,000-10,000 -- urged supporters to gather again on March 17 to discuss the authorities' response to the demands. He stressed that a "practical dialogue" between the National Congress and the Sarkisian government could only center on election preparations.
"This is our last warning to the authorities," Ter-Petrossian declared. "Sober up. I have nothing else to tell you."
Levon Zurabian, Ter-Petrossian's right-hand man who coordinates the party's day-to-day activities, said that "the path of political dialogue is still open for Serzh Sarkisian."
"He still has time, but it is rapidly running out," Zurabian added.
Zurabian repeated Ter-Petrossian's earlier warning that Sarkisian will meet the fate of the recently deposed rulers of Egypt and Tunisia if he continues to oppose snap elections.
The Ter-Petrossian-led opposition has appeared buoyed by the wave of antigovernment uprisings that is sweeping through the Arab world. Increased attendance at its rallies suggests mounting among Armenians unhappy with the government.
Ter-Petrossian, who served as Armenia's first post-Soviet president in 1991-98, did not specify what he and his bloc would do if Sarkisian rejected or ignored his demands. It is still unclear whether he is prepared to launch the kind of nonstop street protests that he staged in 2008.