WATCH: Chaos in Astara as Azerbaijanis try to enter Iran to shop.By RFE/RL
ASTARA, Azerbaijan -- Every day, up to 3,500 Azerbaijanis gather at the border with Iran, waiting for hours to cross while crowded like cattle between chain-link fences.
What is driving so many people from this oil-rich country to endure such humiliation in exchange for a brief visit to their southern neighbor?
In a word: food.
As food prices spike in Azerbaijan, many are doing their grocery shopping abroad.
One woman who was waiting to cross the border explained to RFE/RL's Azerbaijani Service that her pension does not provide enough money for her to buy food in her own country.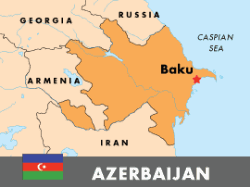 "Why shouldn't I go to Iran? We buy everything we need there -- meat, butter," she said. "These products are very expensive in our country. We cannot afford to buy these things here on our tiny pensions."
Food prices in Azerbaijan have, indeed, skyrocketed in recent months. According to official figures, overall prices have gone up by 2.2 percent in February alone. The price of sugar has risen by 9.5 percent and the price of potatoes by 12.5 percent. Independent analysts say the increases are even larger.
'We Will Die'
Vuqar Bayramov, a Baku-based economist, said he expects overall food prices to rise by 16 percent over the course of 2011.
Azerbaijanis have long been crossing the border into Georgian to buy less expensive goods there. But in February, when Tehran lifted restrictions on the amount of agricultural products that can be taken out of the country, Azerbaijanis made Iran a prime shopping destination.
Iran today reinstituted some of the regulations but still allows Azerbaijanis to take up to 5 kilograms of food out of the country.
A woman wearing a flowered scarf who was waiting at the border said Azerbaijanis are becoming increasingly desperate.
"If they close the Iranian border, we will die," she said. "People will kill each other."
Azerbaijan is hardly alone in facing rapidly increasing food prices.
Oxfam International reports that since July 2010 the worldwide price of maize has increased 74 percent; wheat by 84 percent; sugar by 77 percent; and oils and fats by 57 percent. The UN Food and Agriculture Organization says its food price index is up 3.4 percent from December, marking its highest level since the organization started measuring food prices in 1990.
Analysts say the problem in Azerbaijan is compounded by corruption and by the stranglehold that politically connected monopolies exert over imports.
"The import of food to the domestic market is controlled or monopolized by one or two companies," Bayramov said. "And other companies are not allowed to enter their [import] sphere. And, of course, they drive up prices in the domestic market."
Corrupt Customs Officials
Bayramov said the companies controlling the monopolies are nominally privately owned but are often controlled by powerful government officials.
For example, recently released WikiLeaks cables revealed that one of the most powerful people in Azerbaijan -- Minister of Emergency Situations Kamaladdin Heydarov -- enjoys a stranglehold over fruit-juice distribution.
According to the cables, a company called Gilan Holding, controlled by Heydarov, maintains "extremely high prices" for "watered-down juice drinks" and was "making life difficult -- with the help of state customs -- for cheaper competitors from Turkey, Ukraine, and Russia."
Qubad Ibadoglu, head of the Baku-based Economic Research Center, said corrupt customs officials are also driving up the price of sugar. He said the price of sugar was calculated in customs at 35 U.S. cents but that sugar costs $1.20 per kilogram in local markets.
Similarly, eggs, poultry, and chicken feed are significantly cheaper in Europe than in Azerbaijan.
President Ilham Aliyev: "Entrepreneurship should be rapidly developed in our country; we have to give major impetus to this."
Clearly spooked by the public anger over rising prices, the authorities have begun to take action. President Ilham Aliyev on January 14 instructed his government to exert stricter control over the consumer market.
"We have to prevent artificial rise in prices, ensure free competition, and overcome monopoly trends. Law enforcement should put an end to unnecessary inspections," he said. "Entrepreneurship should be rapidly developed in our country. We have to give major impetus to this."
The Ministry of Economic Development said it will monitor prices with an eye toward identifying artificial hikes and warned it would take action against monopolists. And law enforcement has already started to investigate some abuses.
'We Are In A Bad Condition'
Prosecutors announced on March 11 that recent increases in the price of eggs -- which went up by a whopping 41.6 percent between February and March -- were coordinated by companies that control large shares of the market.
Prosecutor-General Zakir Qaralov said a criminal case has been opened against the companies involved on charges of abuse of power and monopoly practices.
Analysts say the anticorruption measures recently instituted by the government have begun to lower the cost of imported food. Dozens of low-level officials have been dismissed or disciplined since new anticorruption measures were announced on January 27.
If the measures are sustained long-term, Bayramov said food prices could be lowered by up to 20 percent.
Nevertheless, residents of Baku say there is still a major discrepancy between their salaries and pensions on one hand and rising prices on the other. The average salary is approximately $406 a month and the minimum pension is just $100.
At the border to Iran, however, Azerbaijanis are simply worried about feeding their families.
"We are in bad condition," said one man, gesturing toward Iranian territory in frustration. "It's expensive here; it's cheaper there."
This story was reported by Arife Kazimova and Mustajab Mammadov in Astara and Baku and written by Courtney Brooks in Prague