Libyan rebel forces are reportedly advancing toward the town of Sirte -- the birthplace of Muammar Qaddafi, the country's embattled leader.
Opposition fighters, who for two days pushed west toward the capital, Tripoli, almost unchallenged, met resistance from Qaddafi forces in Sirte.
Sirte is located halfway along the coast between Tripoli and the rebels' eastern stronghold of Benghazi.
Capturing Qaddafi's hometown would be a significant morale booster for the opposition and deal a psychological blow to the Qaddafi camp.
Sirte came under coalition air strikes overnight. Libyan government spokesman Mussa Ibrahim said three civilians were killed when coalition air raids hit the city's fishing harbor.
Reports say forces loyal to Qaddafi are retreating, and many Libyan military leaders and diplomats are defecting.
News agencies quoted opposition spokesman Shamsuddin Abdulmolah as saying the rebels had not faced much resistance from pro-Qaddafi forces as they moved on Sirte.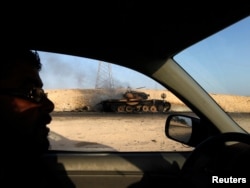 A burned tank is seen on the road to Sirte near Bin Jawad on March 28.
Aided by coalition air raids, the rebels have now taken control of the eastern coastal towns of Ras Lanuf, Brega, Uqayla, and Bin Jawad, after earlier seizing control of Ajdabiya.
Heavy explosions were heard in the Qaddafi-controlled capital, Tripoli, late on March 27.
The rebels also reportedly control all of the main oil terminals in eastern Libya. Opposition officials said they are producing up to 130,000 barrels of oil per day and will be exporting within a week.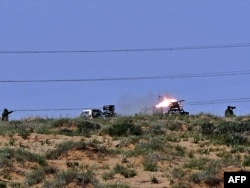 Rebels fire missiles toward pro-government forces at a location close to the town of Bin Jawad today.
Recognition Of Rebel Authority
The Gulf state of Qatar, meanwhile, became the first Arab state to officially recognize the rebels' council as the legitimate representative of Libya.
The head of the Gulf Cooperation Council, a loose economic and political bloc, supported Qatar's move, saying the "Libyan system has lost its legitimacy."
So far, only France has officially recognized the so-called Provisional Transitional National Council. Led by former Justice Minister Mustapha Abdul-Jalil, the council consists of 31 members representing Libya's major cities and towns.
Opposition representatives in Benghazi are also discussing the formation of a government-in-waiting. The task is reportedly being handled by a small group of Libyans, many of whom have returned from exile.
NATO's New Theater
The opposition advance on Sirte comes after NATO announced on March 27 that it was taking full charge of the coalition's military operation in Libya.
NATO Secretary-General Anders Fogh Rasmussen said the alliance's goal was to "protect civilians and civilian-populated areas under threat of attack from Qaddafi's regime."
"We are already enforcing the arms embargo and the no-fly zone," Rasmussen said.
Qaddafi's government claims some 100 civilians have been killed during more than a week of coalition air raids -- a claim denied by coalition officials.
At a news conference in Tripoli on March 27, Ibrahim Musa, the government spokesman, accused NATO of "taking sides" in Libyan conflict.
"NATO is prepared to kill people [and] destroy army training camps and army checkpoints and other locations just so it could have a better political negotiation position in the days to come," Musa charged.
Rasmussen, however, says NATO is acting to protect Libyans.
"NATO will implement all aspects of the UN resolution, nothing more, nothing less," Rasmussen said referring to the March 17 UN Security Council resolution calling for the no-fly zone and the protection of Libyan civilians.
Powers' Positions
Russian Foreign Minister Sergei Lavrov has called for an immediate cease-fire, saying the coalition's military action in Libya amounted to intervention in a civil war.
"We think that intervention by the coalition in what is essentially an internal civil war [in Libya] is not sanctioned by the UN Security Council resolution," Lavrov said.
In Washington, President Barack Obama was scheduled to give a televised address later on March 28 to further explain the U.S. strategy in the Libyan conflict.
Obama's address to the nation is aimed at winning the American public's support for the military action in Libya.
Some U.S. lawmakers have criticized Obama for not consulting Congress before committing the country's military to the Libyan mission.
They have also expressed concern that the whole Libya mission and the exit strategy are not clearly defined.
U.S. Secretary of State Hillary Clinton takes part an international conference in London on March 29 to discuss Libya. Foreign ministers from 36 other countries are expected to attend the meeting.
Rape Case
Meanwhile, several people have been arrested after a Libyan woman claimed she was gang-raped by pro-Qaddafi troops in Tripoli.
Iman Al-Obeidi caught media attention on March 26 when she entered a restaurant in Tripoli's Rixos hotel trying to tell foreign journalists about the rape. Videos were posted on the Internet showing Obeidi being manhandled by hotel staff and government minders who dragged her out of the building and drove her away to an unknown destination.
A government spokesman told reporters she was a mentally challenged prostitute. However, officials eventually announced that Obeidi had been set free and that several people had been arrested in connection with the incident.
compiled from agency reports
Liveblog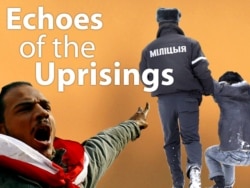 Tracking events and ideas convulsing the Arab world and with ripples around the globe, including RFE/RL's broadcast region.
Click here