Bahrain's foreign minister has said that Gulf Arab state is not trying to dissolve the biggest Shi'ite opposition party in the country.
On April 14, Bahrain's Ministry of Justice and Islamic Affairs said it would dissolve the Al-Wefaq party and another group in a crackdown yet on Shi'ite dissidents who led an uprising to demand more say in the Sunni-ruled monarchy.
The announcement drew immediate criticism from the United States and other allies.
Bahraini Foreign Minister Sheikh Khaled bin Ahmed al-Khalifa wrote in a Twitter message on April 15: "A clarification: Bahrain is not seeking to dissolve political societies, official statement was incorrect."
compiled from agency reports
Liveblog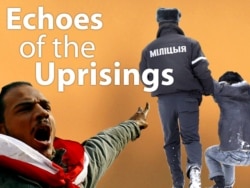 Tracking events and ideas convulsing the Arab world and with ripples around the globe, including RFE/RL's broadcast region.
Click here