Reports from Bahrain say security forces have detained the outspoken head of a prominent human rights group, just days after a crackdown that drove mainly Shi'ite protesters off the streets.
Said Yousif, of the Bahrain Center for Human Rights, says riot police came to his home overnight and detained Nabeel Rajab -- a rights activist who has accused Bahraini forces and their Saudi and Emirati allies of "massacres," including the use of U.S. built Apache military helicopters.
Rajab's arrest would bring to 10 the number of people thought to have been detained since a violent crackdown against demonstrators began on March 15.
Others thought to be detained include opposition leaders who called for the overthrow of Bahrain's monarchy and doctors who had complained of excessive use of force against protesters.
compiled from Reuters reports
Liveblog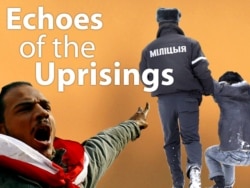 Tracking events and ideas convulsing the Arab world and with ripples around the globe, including RFE/RL's broadcast region.
Click here