Thousands of people are attending funerals of victims of a crackdown on protests in Bahrain.
Mourners waved banners and shouted slogans against the government.
Four people died and more than 200 were wounded when security forces cleared hundreds of demonstrators from the capital's central Pearl Square in the early hours of February 17.
The latest deaths brought to at least six the number of protesters killed this week.
Bahrain's army says it has taken control of key parts of Manama, as scores of armored vehicles took up positions around the city.
In a statement read out on state television on February 17, the military also announced that further gatherings had been banned to ensure order.
The protesters, who had been camped out since February 15, are calling for wide-ranging political reforms in the country, whose population is 70 percent Shi'ite but is ruled by a Sunni Muslim monarchy.
Abed al-Jalil Khalil, head of the main Shi'ite opposition Wefaq party, told Reuters that the police crackdown was "real terrorism."
"There is more than one way or option to avoid such confrontation and killing," Khalil says. "Whoever took that decision was aiming to kill."
Wefaq has boycotted parliament to protest the clampdown by Sunni security forces.
All Other Avenues 'Exhausted'
Since independence from Britain in 1971, tensions between the Sunni elite and the Shi'a have frequently caused civil unrest, with the majority Shi'a complaining of being marginalized.
The Qatar state news agency said Gulf Arab foreign ministers will meet in Bahrain later today to discuss the unrest on the island, where the U.S. Fifth Naval Fleet is based.
Meanwhile, the Pentagon called "on all parties to exercise restraint and refrain from violence," while European Union foreign policy chief Catherine Ashton said: "The peaceful expression of people's concerns should be met through dialogue."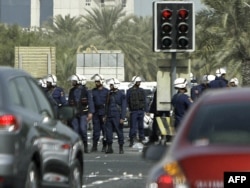 Security forces stand guard near Pearl Square in Manama today.
UN Secretary-General Ban Ki-moon said the violence overnight in Bahrain as "deeply troubling" and called for regional leaders to undertake reforms.
"Many young people have been frustrated by their inability to participate with decent jobs. Freedom of expression, freedom of assembly, and freedom of communication should be fully guaranteed," Ban said.
In Washington, U.S. Secretary of State Hillary Clinton called for an end to the violence.
"I called my counterpart in Bahrain this morning and directly conveyed our deep concerns about the actions of the security forces, and I emphasized how important it was that, given that there will be both funerals and prayers tomorrow, that that not be marred by violence," Clinton said.
Bahrain is home to the United States' Fifth Naval Fleet, which is considered a critical counterbalance to Iran.
Bahrain's foreign minister, Khalid Al Khalifa, justified the crackdown as necessary because the demonstrators were "polarizing the country and" pushing it to the "brink of the sectarian abyss."
Speaking to reporters after meeting with his Gulf counterparts, he also said the violence was "regrettable."
The Bahrain protest was part of a wave of antigovernment unrest that has swept through North Africa and the Middle East in recent weeks, forcing the long-serving rulers of Tunisia and Egypt from power.
The antigovernment rallies are being fueled by discontent over unemployment, rising living costs, corruption, and autocratic leaderships.

Protests Spreading
In the last week, protests have taken place in Algeria, Bahrain, Iran, Jordan, Libya, and Yemen -- where on February 17 security forces and government loyalists clashed with protesters in the capital, Sanaa.
Army tanks take position near Pearl Square in Manama, the Bahrainian capital, today.
Several thousand protesters on February 17 marched through the city, fighting off attacks by police and government supporters armed with batons and daggers.
At least 25 people were injured in the clashes.
In the port city of Aden, a protester was reportedly killed by gunfire and 10 were injured as police tried to disperse an antigovernment demonstration. A protester had been killed by police in the same city on February 16 -- the first confirmed death since the protests began.
Qaddafi Under Fire
In Libya, online activists called on social networking sites for a "Day of Rage" on February 17.
Reports said several hundred supporters of Libyan leader Muammar Qaddafi gathered in the capital to counteract the call, but there was no sign of any antigovernment protests.
U.S.-based Human Rights Watch said Libyan authorities have detained 14 activists, writers, and protesters in connection with the planned demonstrations.
Public dissent is rare in Libya, where Muammar Qaddafi has been in power for more than 40 years.
In a first sign of defiance on February 15, witnesses and media reported that several hundred people clashed with police and Qaddafi supporters in the North African country's second-largest city, Benghazi.
An opposition news website, Libya Al-Youm, said at least six people were killed in clashes in the city this week.
More than 30 people, including police officers, were also reported injured in the unrest, which followed the detention of an outspoken government critic.
Libya's "Quryna" newspaper reported that at least two people were killed in clashes overnight in the the northeastern city of Al-Baida, and that the regional security chief had been removed from his post as a result.
Video clips uploaded overnight on the Internet appeared to show protesters in Al-Baida chanting slogans.
There were unconfirmed reports of protests elsewhere in the country today. Messages posted on Facebook said protesters in Ar Rajban, near the border with Algeria, and Zenten, southwest of Tripoli, set fire to local government buildings.
In a speech broadcast on February 16, Gaddafi made no mention of the unrest, but said the "revolutionaries" would prevail, and that "the puppets of the USA, the puppets of Zionism" were falling.
More than 100 members of a banned Islamist militant group were freed from prison on February 16. It is not clear if the release of the inmates was connected to the clashes.
Meanwhile in Iraq, Kurdish security forces on February 16 reportedly opened fire on a crowd of protesters calling for political reforms in the north of the country, killing at least two people.
Protests were also reported in Kirkuk and Basra, as Iraqis express angry over corruption and a lack of basic services like electricity and clean drinking water.
A major rally called "Revolution of Iraqi Rage" is scheduled to be held in Baghdad on February 25.
Iraqi Prime Minister Nuri al-Maliki today blamed Ba'athists and Al-Qaeda for inciting the protests.


written by Antoine Blua, with agency reports