Opposition Activist Beaten In Minsk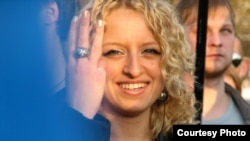 A Belarusian opposition activist reportedly has been beaten in Minsk.

Yulia Stsyapanava of the European Belarus opposition group told colleagues that two attackers assaulted her near her apartment block on January 14, just after midnight.

According to the Vyasna human rights center, she said they knocked her down, forced her face into the snow, causing lacerations, and cut off her hair.

Stsyapanava posted on her Facebook account that the attackers shouted vulgarities and cursed her political activities.

She is well-known for her online fundraising activities for the families of political prisoners.

Law enforcement officials in Minsk have refused to comment the incident.
About This Blog
"Watchdog" is a blog with a singular mission -- to monitor the latest developments concerning human rights, civil society, and press freedom. We'll pay particular attention to reports concerning countries in RFE/RL's broadcast region.
Journalists In Trouble
RFE/RL journalists take risks, face threats, and make sacrifices every day in an effort to gather the news. Our "Journalists In Trouble" page recognizes their courage and conviction, and documents the high price that many have paid simply for doing their jobs. More