MINSK -- A former Belarusian presidential candidate who claimed he was
tortured in jail
and fears for his life has apparently left Belarus in defiance of an order barring him from leaving town, RFE/RL's Belarus Service reports.
Ales Mikhalevich, who opposed the entrenched President Alyaksandr Lukashenka in the December 19 election, wrote on his blog on March 14 that he is "in a zone that is not accessible for the Belarusian KGB." He did not specify his whereabouts.
"I have been summoned to KGB headquarters again. I have every reason to believe that this time I will never leave the KGB building," he wrote. "That is why I am not going there. I will continue working to bring about an end to torture [in Belarusian jails] and the release of all political prisoners [in Belarus]."
Mikhalevich's wife, Milana, confirmed to RFE/RL that her husband had left Belarus.
"I know only that he left the country, I have no idea about his current whereabouts," she said. "I am sure that there must have been serious reasons for him to do so, since he did it. He did not even take his toothbrush with him."
The news comes as international activists Human Rights Watch
issued a report
in which it alleges arbitrary detentions and abuses and a broad effort by Belarusian authorities to "stifle civil society and free expression across the country."
WATCH: Ales Mikhalevich alleged in a video by RFE/RL's Belarus Service that he was tortured at a KGB-run detention center.
Last month, Mikhalevich compared the KGB pretrial detention center where he was held for two months to a concentration camp, saying he was subjected to torture there.
He also said that he had been forced to sign an agreement on collaborating with the KGB in order to secure his release from the detention center on February 19.
The
website
of the opposition For Freedom movement also claims to have received information that Mikhalevich has managed to flee the country. (Read more
here
)
The website said Mikhalevich informed For Freedom representatives that the only reason behind his decision to leave is "the real physical threat to my life."
Mikhalevich and several other opposition presidential candidates, along with hundreds of their supporters, were arrested on December 19-20 while protesting the results of the presidential election, which they say was rigged.
Incumbent Lukashenka was announced the runaway winner of the vote, which international election monitors said was flawed.
Authorities 'Stifling' Public
Two other former presidential candidates -- Andrey Sannikau and Mikalay Statkevich -- remain in custody. A third, Uladzimer Nyaklyaeu, is under house arrest. All have been charged with organizing mass disturbances.
Authorities have also disbarred defense lawyers and otherwise harassed individuals whom they accuse of seditious activities surrounding the election and its aftermath.
In a report titled "
Shattering Hopes
," Human Rights Watch accuses Belarusian authorities of "arbitrarily detain[ing] and abus[ing] hundreds of people" in the postelection crackdown.
In its March 14 report, the group says a campaign has been carried out "to stifle civil society and free expression across the country." The report documents human rights violations that have occurred since the election, including persecution of opposition candidates and activists, abuse of detainees, trials behind closed doors, and raids on human rights organizations.
Read this article in Belarusian
here
Special Page: Belarus Crackdown
Crackdown In Belarus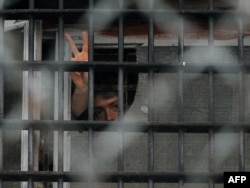 A special page devoted to coverage, views, and multimedia features on authorities' response to public doubts about Belarus's presidential election.
Click here