NEW YORK -- Belarus's Free Theater almost didn't make it to New York City.
The underground troupe's members have been subject to harassment, beatings, blackmail, and imprisonment at the hands of the authoritarian government in Minsk.
In the
aftermath of Belarus's disputed December 19 presidential election
, two of its members were arrested and others went into hiding as the regime of President Alyaksandr Lukashenka rounded up its political opponents.
Eventually, members of the troupe were able to leave the country, taking care to do so in small groups in order to not attract official attention. Playwright Natalya Kolyada, Belarus Free Theater's co-founder, described the ordeal as a "thriller."
Political Thriller
Due to the atmosphere back home, the Free Theater's trip has taken on political overtones.
While in the United States, Kolyada plans to visit members of the U.S. Congress to brief them on the political situation in Belarus. She also wants to organize a pro-democracy rally similar to one held in London before the December 19 vote.
"We are trying now to do the same thing in New York but in the current situation we need to express our support to all who are jailed in Belarus and who are facing long prison terms," Kolyada says. "Our [theater] activity is continuing, but unfortunately we cannot at this point separate our theater and other [social] activities."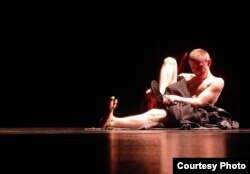 Scene from "Being Harold Pinter" at La Mama Theater
With many of the Free Theater's supporters still in jail, Kolyada and her colleagues have secured the support of former Czech President Vaclav Havel, former South African leader Nelson Mandela, rock legend Mick Jagger, and filmmaker Steven Spielberg in their efforts to free them.
Under The Radar
While in New York, the troupe is one of the headliners for the Under The Radar 2011 independent theater festival, which showcases experimental theater from around the world and runs through January 16. They are slated to perform "Being Harold Pinter," directed by Uladzimer Shcherban.
Mark Russell, the artistic director of Under The Radar, says that the Minsk troupe fits perfectly with the festival's agenda. He calls it "one of the best examples of groups that continue to make their work and tour it to different communities to share with them. I think this small-scale, more intimate theater is what really binds cultures together, it's where real cultural exchange happens."
Russell adds that among the New York theater aficionados there is a lot of interest in artistic developments in Eastern Europe and the former Soviet Union. The audience at the January 5 opening show at La Mama Theater in Manhattan gave the troupe a three-minute standing ovation.
They also won rave reviews from both "The New York Times" and "The Wall Street Journal."
Universal Appeal
Kolyada attributes the Free Theater's popularity to the universal human appeal of their plays. "These are the themes the audience wants to see and hear," she says. "It happens relatively rarely in the modern theater. We are trying to touch upon topics that are genuine, that are personal, and affect people in a personal way."
Steven Hitt, the director of the La Guardia Performing Arts Center in New York, who was in attendance on January 5, says that even without the political undercurrents he loved "Being Harold Pinter" simply on its artistic merits.
Hitt says that combining the works of Pinter -- a Nobel laureate who died in 2008 -- from different periods and setting them in a contemporary context is certainly an innovative approach.
"I loved it as a piece of theater. Combining the work of Pinter earlier on and comparing it to what's going in the world now and bringing it on to life is pretty amazing thing to be doing," Hitt says. "It was beautifully done."