Belarusian lawyer Valyantsina Busko says she and her son were at the December 19 protest in Minsk against the reelection of authoritarian President Alyaksandr Lukashenka out of curiosity. She found herself fighting against a crush of people.
"There was a stampede, it was awful," she says. "I was hit in the face with a police shield, but my winter cap protected me. My son was also beaten, and then all of us were put in police cars and taken to the Akrestsina jail. We were separated and registered."
Busko, who is from the northwestern city of Hrodna, was tried the next day. She says the trial lasted only one minute, there were no witnesses, and no one listened to the detainees. She was sentenced to 10 days in prison for her participation in the protest.
Her troubles, however, didn't end there. She was still in Minsk, waiting for her son to be released, when she got a telephone call from the regional bar association telling her that the next day her behavior would be discussed by the leadership of the association.
She says that the discussion subsequently took place in her absence, and the association revoked her license to practice as a disciplinary measure for participating in the mass protests. "I am now deprived of work," she says.
Crackdown On Opposition
Busko is just one of many protesters to be targeted in a crackdown following the mass protests against Lukashenka's disputed reelection. Opposition and rights activists are concerned that 2011 will bring a new wave of expulsions and firing from schools and jobs.
The protests saw more than 600 people arrested and most were given sentences of between five and 15 days in jail. Hundreds have since been released but continuing arrests make it unclear how many remain imprisoned.
Over the last three days, the KGB has searched dozens of offices and homes belonging to pro-democracy activists, journalists, and members of opposition parties, with many taken in and interrogated.
The Belarus Helsinki Committee human rights group was reportedly raided, and its director detained, earlier this week.
On January 6 in Homel, Belarus's second-largest city, six police officers, some in plainclothes, broke into the apartment of activist Yauhen Yakavenka. An hour later the home of Kanstantsin Zhukouski, the city coordinator of the opposition Belarusian Christian Democratic Party, was also broken into.
Activists hold a portrait of detained presidential candidate Andrey Sannikau at a rally in front of the Belarusian Embassy in Moscow.
Both had worked on the election team of opposition presidential candidate Uladzimer Nyaklyaeu, who remains in police custody.
Targeting Students

Opposition activists fear a repeat of 2006, when more than 300 student dissidents were expelled from their universities after protests following Lukashenka's landslide election win.
Alena, a volunteer for the opposition Belarusian Popular Front (BNF) who did not want to give her last name, says she has encountered people who face expulsion from schools or firing from their jobs.
"In the office of the BNF where we work, a lot of people come who have been imprisoned for 10-15 days, and we are trying to help them, send them to a human rights organization, where they can obtain legal advice," she says, "as many people face expulsion from schools or firing from jobs."
Students belonging to opposition groups are regularly targeted in Belarus. Some have been expelled from universities on spurious charges; others have been press-ganged into the armed forces. Sometimes students are warned to stay away from demonstrations if they want to continue their studies.
For Alina Litvinchuk, the fear of expulsion is very real. A member of the opposition United Civic Party, she says that in the past she has been summoned to the Brest State University dean's office and threatened with expulsion for her political activities.
Although she was not at the December 19 rally, she says the university has recently prevented her from taking two exams by failing her on preliminary tests.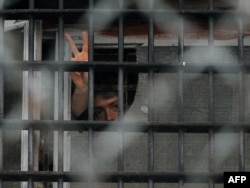 A man gestures from a window at a prison where opposition protesters arrested on December 19 are held in Minsk.
"During the winter session we have stopped talking about expulsion eye to eye," Litvinchuk says. "But during the session I was not allowed to take the first exam, and then another, and this in fact is expulsion."
Reaching Out To Those In Jail
Many other protesters still remain in jail. Four of the seven opposition presidential candidates arrested are still detained, while Ryhor Kastusyou, Dzmitry Vus, and Vital Rymasheuski have been released. All seven have been formally charged with organizing mass disturbances and face up to 15 years in prison if convicted.
Volunteers around the country have been raising money and sending packages to the imprisoned dissidents for Christmas, which Orthodox Christians in Belarus celebrate on January 7.
Alena from the BNF says many people have sent Christmas cards to the imprisoned activists. "People continue to come here bringing some holiday gifts to lighten these holidays a little bit for these people who are far from being in a festive mood," she says.
"Also, there were a lot of Christmas and New Year cards, which many ordinary people wrote for prisoners on December 19 and later," she adds. "We give everyone a card, each of which is a small piece of art, because people with all their heart wrote kind words to those who suffered from the authorities on December 19."
Should Belarusian schools start expelling dissidents from the country, universities in Poland, Armenia, and Lithuania have offered to open their doors to Belarusian students. After the protests in 2006, Poland launched a scholarship program for Belarusian students expelled from university for their opposition activities.

Reporting by RFE/RL's Belarus Service