WATCH: Journalist Iryna Khalip reacts to her sentencing, talks about her next moves, and wonders what to tell her 4-year-old son about where his father is.By RFE/RL
MINSK -- A Minsk court has handed a two-year suspended prison sentence to journalist Iryna Khalip, the wife of former presidential candidate Andrey Sannikau, for her involvement in the December 19 mass protests following the disputed presidential election.
Khalip walked free after the court's verdict, which also canceled her house arrest.
The ruling came two days after
Khalip's husband was sentenced to five years
in a maximum security prison for organizing the mass protests that broke out after President Alyaksandr Lukashenka's reelection.
Khalip was greeted by cheers when she spoke after the verdict.
"I'm glad we all maintained our dignity throughout this ordeal," she said. "I'm very proud of my husband. I consider him a national hero."
Political Prisoner

Sannikau's conviction has been roundly criticized by the international community; the U.S. State Department described him as a political prisoner and called for his immediate release.
At his trial, Sannikau flashed a victory sign at observers from the cage where he and the other defendants were kept.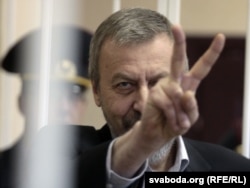 Andrey Sannikau gestures to reporters from inside the dock in a Minsk courtroom on May 14, before his sentence was read.
After the verdict was read, he said, "Take care of my relatives," while people in the courtroom shouted, "Freedom!" and "Shame on the government!" RFE/RL's Belarus Service reported. Many observers were crying.
Child-protection services last year threatened to put Khalip and Sannikau's son into an orphanage, but Khalip's parents managed to secure guardianship.
I plan to hire a professional brigade to clean, dry-clean, disinfect, deactivate...and whatever else it takes to rid my house of the smell of the KGB.
Their son, Danil, turned 4 on May 15.
Khalip said she was grateful that she would be able to take care of her son and said her main concern was her husband's prison sentence.
"I'll tell you the truth. What have we come to if we're rejoicing that they haven't sentenced us to 10 or 15 years but instead have allowed me the opportunity to care for my son, while simultaneously depriving the child of his father?" she said. "I am more concerned about the sentence my husband got -- five years. I am perfectly certain that he will not remain in jail for the duration of that term."
Prosecutors had asked for a two-year suspended sentence for Khalip and seven years imprisonment for Sannikau. The two faced maximum sentences of three and 15 years, respectively. Sannikau was charged with organizing mass protests following the election, while Khalip faced the lesser charge of disrupting social order.
Two aides to former presidential candidates were also sentenced on May 16 -- Pavel Sevyarynets received three years of "restricted freedom" with a mandatory work assignment, and Syarhey Martseleu was given two years of probation. They faced the same charges as Khalip.
Speaking after the verdict, Sevyarynets, a co-leader of the Belarusian Christian Democracy party, appealed on behalf of Sannikau and other activists in jail.
"There are people who are in a worse situation right now: Andrey Sannikau [and other] young guys," he said. "We can help them now. We should organize support for them. I thank God and I thank everyone who supported me and who prayed for me."
'Flawed' Elections
Four other former presidential candidates also face jail time. Uladzimer Nyaklyaeu and Vital Rymasheuski could be sentenced to up to three years in jail, while Mikalay Statkevich and Dzmitry Vus face up to 15 years over their alleged organization of mass riots.
Andrey Sannikau, his son Danil, and wife Iryna Khalip, in an undated photograph
Sannikau was the leading opposition candidate in the election, with official results giving him less than 2.5 percent of the vote, in a distant second to Lukashenka. Western observers described the elections as "flawed" and the subsequent crackdown on the opposition prompted Washington and the European Union to impose sanctions on the regime.
Dozens of opposition political figures and activists have been put on trial over the mass protests, in which thousands took to the streets.
Lukashenka, often referred to as "Europe's last dictator," has run Belarus with an iron fist for nearly 17 years, retaining Soviet-style controls over the economy and cracking down on opposition and independent media.
Khalip said today she had several things to do in the wake of the trial -- including removing all traces of the
officers who monitored her during her house arrest
-- and then she would start to appeal her conviction.
"As far as my future plans are concerned, first, I want to immediately write a letter to my husband. For five months, I have been deprived of that possibility," she said. "Second, I want to change all the locks in my apartment. Third, I plan to hire a professional brigade to clean, dry-clean, disinfect, deactivate...and whatever else it takes to rid my house of the smell of the KGB. Imagine, for three months I had men in green and red trousers scrounging through my home!"
written in Prague by Courtney Brooks, based on reporting by RFE/RL's Belarus Service and agency reports