MINSK -- Belarusian journalist Barys Haretski has been sentenced by a Minsk court to 14 days in jail for taking part in postelection demonstrations on December 19, RFE/RL's Belarus Service reports.
Haretski was detained on January 17 near the KGB headquarters in Minsk while interviewing relatives of opposition activists and their supporters who were arrested in central Minsk on December 19-20 during protests following the contentious presidential election.
He was originally accused at the Foreign Ministry of collecting material for a Polish radio station without accreditation. But those charges were changed and he was eventually found guilty of taking part in the demonstrations in December to protest the results of the presidential election that officially reelected President Alyaksandr Lukashenka to a new term.
Haretski told RFE/RL that he pleaded not guilty to the charges. He said he was on Independence Square on December 19-20 to cover the protest as a journalist, not to take part in it, and therefore the court's decision to jail him is illegal.
Read in Belarusian
here
Special Page: Belarus Crackdown
Crackdown In Belarus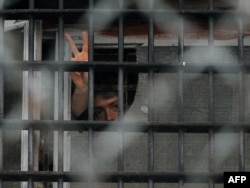 A special page devoted to coverage, views, and multimedia features on authorities' response to public doubts about Belarus's presidential election.
Click here