Authorities in Belarus have charged five opposition candidates in connection with the protests that broke out in Minsk following this month's presidential election.
Ales Mikhalevich, one of the candidates who ran against longtime President Alyaksandr Lukashenka, was charged today with organizing mass riots, according to his lawyer.
Four other presidential contenders -- Uladzimer Nyaklyaeu, Vital Rymasheuski, Mikalay Statkevich, and Andrey Sannikau -- were similarly charged on December 29.
All five men are being held in a prison controlled by the KGB security service.
The December 19 election resulted in a fourth term for President Alyaksandr Lukashenka in a vote observers say was flawed and marred by the ensuing crackdown on Lukashenka's opponents.
Two other presidential candidates -- Ryhor Kastusyou and Dzmitry Vus -- were detained on December 19 but released the next day. They are barred from leaving the country as they are under investigation.
In total, 26 people, including the candidates' campaign managers and other opposition activists, have been identified as suspects in a probe into the mass postelection rally on December 19, when more than 10,000 people took to the capital's central square to protest alleged vote-rigging.
PHOTO GALLERY -- Opposition protesters being released:
If found guilty of organizing violent unrest, they could face up to 15 years in prison. Belarus has in the past leveled similar charges against Lukashenka's opponents. In 2006, former presidential candidate Alyaksandr Kozulin was sentenced to 5 1/2 years in prison. He was pardoned in 2008 under EU pressure.
The Belarusian president on December 30 referred to a "handful of traitors" who were trying to "overthrow the country" and hinted at the gravity of charges that authorities might be targeted at some of the detainees.
"Our biggest victory is that we defended our country," Lukashenka said in Minsk, later adding, "Everything they did, they had the backing of certain people not from our state, certain political structures and huge sums of money."
He also took the opportunity to express deep distrust of Western critics. "When someone tells me about the West, I don't trust [the West]. Most likely they were trying to distract me and all of us, saying, 'Hold [the election], open up everything.' It's just like, 'Go and lay down on the ground in freezing temperatures, get undressed, and everything will be all right.' They were trying to distract us and now we can see their true face. Therefore, it just proves one more time that we can only rely on ourselves. We will never be loved by them."
'Smashed Heads'
Authorities on December 29 began releasing people detained during the postelection demonstrations. Some 600 people were arrested after police violently broke up the rally.
Illya Bohdan, a 23-year-old opposition activist who was among those released,
told RFE/RL's Belarus Service
that he and other protesters were beaten up by police.
"They beat us even before we were put in the trucks. People were beaten with clubs. The police also pushed us into the truck with clubs, not with their hands. That's why people were covering their heads," Bohdan said. "There were many people in the truck, and it is possible that they beat the last ones because it was full. They were pressing as many people as possible in it."
Bohdan said he'd seen "many guys with smashed heads."
"There was a person who was saying that he is a writer and has a lot of readers. He pleaded for an ambulance, but the police refused. He had a broken arm and some teeth smashed out," Bohdan said. "I saw a person with both arms broken who behaved as if nothing had happened. A courageous person. His hands were in his pockets. When he took them out, they were blue and huge."
Meanwhile, the lawyer for Uladzimer Nyaklyaeu says she fears for his health and called for his immediate hospitalization. Tamara Sidarenka said Nyaklyaeu, who was severely beaten before the rally, was unable to speak and was suffering from high blood pressure when she visited him in prison in Minsk on December 29.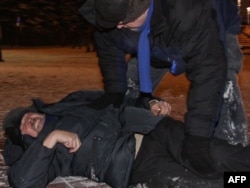 Opposition candidate Andrey Sannikau lies on the street after being beaten during clashes between protesters and police on December 20.
"His health condition is very critical," she said. "Nyaklyaeu isn't being hospitalized, despite the fact that he is facing a big risk of a second hypertension crisis and stroke, especially considering the fact that he has been in [doctors'] records since 1999 when he suffered a stroke."
Two other Lukashenka challengers -- Rymasheuski and Sannikau -- also reportedly sustained injuries during their arrest, with rights group Amnesty International claiming that Sannikau has been tortured in detention. Amnesty quotes Sannikau's lawyer as saying that the candidate's legs appear to have been broken and that the way he speaks and carries himself indicates he may have brain damage.
Crackdown Condemned
According to official results following the December 19 vote, Lukashenka, frequently referred to as "Europe's last dictator," won 80 percent of the vote.
Western governments and international observers from the Organization for Security and Cooperation in Europe criticized the election as flawed and condemned the crackdown on protesters.
European Parliament President Jerzy Buzek in a December 30 statement called the crackdown "unacceptable in 21st-century Europe."
Buzek also called on Belarusian authorities to free all opposition candidates and all demonstrators still in prison.
It took a week for Russian President Dmitry Medvedev to formally congratulate Lukashenka on his victory. Interfax reports that Russian Prime Minister Vladimir Putin formally endorsed Lukashenka's reelection on December 29.
"I did not follow these elections, but it seems clear from the amount of voters the choice of the Belarusian people should be respected," Putin told journalists. "I am not ready to evaluate the circumstances of these elections."
Lukashenka has ruled Belarus for 16 years.
written by Farangis Najibullah, with contributions form RFE/RL's Belarus Service and agency reports