VITSEBSK -- A Belarusian opposition activist has been sent back to jail to serve the remainder of a 15-day sentence after losing an appeal, RFE/RL's Belarus Service reports.
Syarhey Kavalenka was sentenced to 15 days in jail on April 1 for violating the three-year "limited freedom" sentence given to him in January 2010 for "illegally displaying the banned Belarusian national flag" in a public place.
He was released on April 8 after serving three days of his term while the local prosecutor's office in the eastern city of Vitsebsk studied his appeal.
Police told him today that the prosecutor found that the verdict was correct and he must therefore serve the remaining 12 days of his term, i.e. until May 4.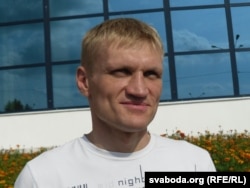 Syarhey Kavalenka
Kavalenka immediately announced that he would go on hunger strike again "against the internal occupation of the Belarusian people by police, detention centers, and KGB."
Kavalenka, 36, is a member of the Belarusian Conservative Christian Party-Belarusian Popular Front. He originally went on a hunger strike to protest his arrests on March 25 and again on April 1.
Kavalenka was arrested the first time in Vitsebsk while holding the banned opposition national white-red-white flag to mark the 93rd anniversary of the country's independence from Russia.
He was sentenced to seven days in jail for "verbally insulting the police."
When Kavalenka was released on April 1, he was rearrested immediately after leaving the jail and given the 15-day jail sentence.
Read more in Belarusian
here