MINSK -- The local head of an embattled Polish cultural organization in eastern Belarus has fled to Poland after fearing possible arrest, RFE/RL's Belarus Service reports.
Uladzislau Tokarau, head of the Vitsebsk branch of the Union of Poles In Belarus (ZPB), told RFE/RL today he has been in Poland for several days.
He said police stopped him on May 28 when he returned to Vitsebsk from Minsk and took him to a police station, where they told him he was suspected of fraud.
He was held for several hours while police searched his apartment.
"The police told me that I had taken somebody's passport and money and promised to perform some services for that person, but that I destroyed the passport and never returned the money," Tokarau said.
He called the accusation ridiculous.
Tokarau said police warned him they would bring in "the victim" and interrogate the two of them together, but then did not do so.
He was then allowed to go home, where he found that the police who searched his apartment had confiscated a computer and two laptops, as well as all written records of the ZPB's activities.
"I am sure that this is all about the ZPB's activities relating to the December presidential election," Tokarau told RFE/RL.
The ZPB recently convened a public gathering in Vitsebsk to demand the release of political prisoners.
Tokarau said he finally decided to leave Belarus. He said he has not yet requested political asylum in Poland. His wife and 10-year-old daughter are in Vitsebsk.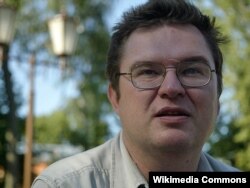 Andrzej Poczobut
Another Polish-Belarusian activist and journalist, Andrzej Poczobut from the western city of Hrodna, has been held in a pretrial detention center since April 6.
He has been charged with "insulting the personal dignity and honor of the president" in his newspaper articles and online comments.
Poczobut, who is a leading member of ZPB, could face up to two years in jail if found guilty.
The Belarusian government's treatment of the ZPB strained ties between Belarus and the European Union last year, particularly after the ZPB was evicted from its office near Minsk and police detained a number of its activists.
The ZPB has been trying for five years to regain official registration in Belarus.
In 2009, Belarusian officials registered the Union of Belarusian Poles, an alternative organization representing ethnic Poles in Belarus that is friendly with Belarusian authorities.
The Polish government regards the ZPB as the only legal representative of the Polish minority in Belarus.
About 4 percent of Belarus's 9.7 million population are ethnic Poles.
Read more in Belarusian here