WATCH: Ales Mikhalevich says he was subjected to torture at a detention center run by the KGB (video by RFE/RL's Belarus Service).
MINSK -- A former Belarusian opposition presidential candidate has compared the KGB jail where he was held for two months to a concentration camp, saying he was subjected to torture there, RFE/RL's Belarus Service reports.
Ales Mikhalevich made the remarks about the pretrial detention center of the Belarusian Committee for State Security (KGB) at a press conference in Minsk on February 28 (read his full statement
here
).
Mikhalevich said the jail guards made him stand outside naked in the freezing cold, deprived him of sleep, dragged him on the floor while handcuffed, kept him in an overcrowded cell, and interrogated him without a lawyer present.
"They did all those things to break opposition activists," he said.
Mikhalevich said that he had to sign an agreement on collaborating with the KGB in order to secure his release from the detention center on February 19.
He told journalists that he never had been and never would be a KGB agent, despite that agreement.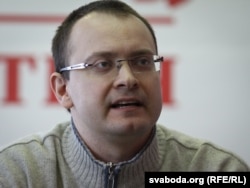 Ales Mikhalevich addresses the press conference in Minsk.
He said he had to sign the document and read it aloud in front of a video camera in order to secure his release and be able to tell the world the truth about conditions in that pretrial detention center in Minsk.
"Some people wearing camouflage uniforms and face masks, with no insignia, dragged me out [of my prison cell], handcuffed me behind my back, and pulled my arms so high my face was hitting the concrete floor," Mikhalevich said.
"They took me down a spiral staircase into a separate room and started pulling my arms up so high that my bones cracked, demanding that I promise to do whatever I was told to do by State Security officers. And they kept pulling my arms up until I said yes."
Mikhalevich added that he had lodged an official complaint with the prosecutor-general against KGB "torture," and said he planned to send a similar document to the United Nations' Committee Against Torture.
Some Still Jailed Since Protests
Mikhalevich and several other opposition presidential candidates, along with hundreds of their supporters, were arrested on December 19-20 while protesting the results of the presidential election, which they say was rigged.
Incumbent President Alyaksandr Lukashenka was announced the runaway winner of the vote, which international election monitors said was flawed.
Two other former presidential candidates -- Andrey Sannikau and Mikalay Statkevich -- remain in custody. Uladzimer Nyaklyaeu is under house arrest.
All three and Mikhalevich have been charged with organizing mass disturbances.

Read more in Belarusian
here