BRUSSELS -- The co-founder of a campaigning Belarusian theater group has criticized the European Union for being too soft on Minsk and is calling on the bloc to impose tougher economic sanctions, similar to those adopted by the United States.
Natalya Kalyada of the Belarus Free Theater was among hundreds of people arrested during protests against December's disputed presidential election that returned President Alyaksandr Lukashenka to power.
The election and the ensuing crackdown on opposition activists were criticized by international observers and prompted Brussels to impose asset freezes and travel bans on Lukashenka and close to 170 of his associates.
But Kalyada is adamant that it is not enough to change the situation in her country.

More, Stronger, Tougher
Kalyada said the EU should follow the lead of the United States and subject Belarusian companies to stronger economic sanctions.
"There is a vital need for a joint position of the EU and the United States," she says, "until that moment when there are very tough economic sanctions and a release of all political prisoner and new presidential elections."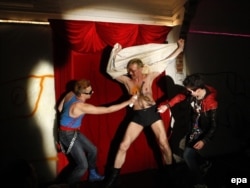 A performance by actors from the Belarus Free Theatre
Kalyada is dismissive of claims made by several EU leaders that economic sanctions would make the lives of ordinary Belarusians more difficult.
"I would never say it would hurt the people of Belarus," she says. "It will not. [We have had] so many years of hurting. What else should be worse?"
Kalyada says, in her opinion, Lukashenka has run circles around Brussels for the last 16 years. She says the EU should get tougher with him in order not to risk a situation similar to the ones currently playing out in North Africa and the Middle East.
Kalyada is currently based in London, together with her husband and 12-year old daughter.
With no chance of returning to her home country anytime soon, Kalyada will be busy with the Belarus Free Theater in New York, where the company will give 40 performances in the coming months.
Many of the troupe's members and management have been subject to harassment, beatings, and blackmail, and some remain in prison. Despite this, they were often able to give underground shows at different locations in Minsk, with audience members told at the last moment via text message to evade police detection.
The group's performances have tackled head-on a range of social and political issues with an honesty that defies the regime's censorship. "Numbers," performed in London just before the December election, uses statistics to take a stark look at daily life in Belarus.
The last of those performances in Belarus took place on December 18, the day before the presidential election.
Kalyada is not sure when they will be able to return but looks forward to the day when, she says, "our friends who are today in [a] KGB jail become [the] real leaders of the country."