With an economy teetering on the brink of collapse and a nervous population standing in hours-long lines to buy foreign currency or gold, Minsk is going hat in hand to Moscow seeking relief.
The open question is: What price will Russia demand for bailing out Belarus and its authoritarian leader, President Alyaksandr Lukashenka?

Russia has long been pushing Minsk to sell off key state assets including oil refineries, chemical plants, oil and gas pipelines, and machinery plants. In addition, Moscow has been calling for Belarus to open its markets to Russian goods, tearing down barriers that exist despite the fact that the two countries are members of a unified customs zone.
"It is a matter of the privatization of shares, the entrance of Russian capital into Belarus, and the opening of markets to Russian products," notes Yevgeny Minchenko, director of Russia's International Institute of Political Expertise.
Belarus has run through 20 percent of its hard-currency reserves since the beginning of the year and implemented a partial currency devaluation at the end of March. Long lines are forming at exchange booths that are rapidly running out of dollars and euros.
Panicky Belarusians are meanwhile buying up cars, gold, and nonperishable staples like sugar, tea, and coffee as they desperately seek to retain the value of their savings as fears of further devaluations mount.
Moscow's Terms
On March 31, Belarus presented Moscow a plan to stabilize the economy that envisions $2 billion in credits from the Russia-dominated Eurasian Economic Community (Eurasec) and $1 billion from Russia. It also proposes a tightened monetary policy, structural and tax reforms, and reduced state spending.
Russian President Dmitry Medvedev (right) is in a position to dictate terms to his Belarusian counterpart, Alyaksandr Lukashenka.
However, Moscow has been slow to react. Deputy Finance Minister Dmitry Pankin told Interfax on April 5 that Russia had made "no promises" and that Moscow was studying the proposed macroeconomic reforms.
Belarusian economist Syarhey Chaly tells RFE/RL's Belarus Service that no serious restructuring can be carried out so quickly and the talks must really be focused on other matters.
"It's obvious that there are conditions, but they aren't being publicly discussed. Most likely, the conditions are very concrete," Chaly says. "Because we are in a very bad situation and have painted ourselves into a corner, Russia can demand practically anything it wants."
Russia's hand is further strengthened because Lukashenka may have miscalculated in his normally wily geopolitical balancing act, political scientist Minchenko says. "There is no possibility to play the game that Lukashenka loves to play," he says, "weaving between Russia, the West, China, and Latin America."

No Room To Maneuver
Prior to Belarus's December presidential election, the European Union offered Lukashenka a $4.2 billion aid package if the poll was conducted fairly. Not only was the election held in poor esteem by outside monitors, but Lukashenka also launched a brutal crackdown on the political opposition in the wake of the poll. The EU aid offer was withdrawn and the West began imposing fresh sanctions.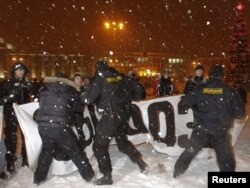 Lukashenka's crackdown on the opposition has cost him a proffered EU aid package.
In addition, the bad economic situation was brought to the current crisis by populist measures Lukashenka adopted in the run-up to the vote. In particular, he raised salaries in the country's enormous public sector at a time when Russia was raising the rates it charges Belarus for oil and gas.
The current crisis will likely force Lukashenka to roll back those promises and could prompt a devaluation of the national currency by as much as 40 percent.
After years of oppression and marginalization -- as well as the postelection crackdown -- the political opposition in Belarus is hobbled and in a poor position to capitalize on the growing public discontent. But the panic puts additional pressure on Lukashenka to come to terms with Moscow quickly.
written by Robert Coalson, based on reporting from RFE/RL's Belarus Service