WATCH: The damaged car and other images from the scene of the May 24 explosion.
By RFE/RL
A car has exploded near the Kazakh national security service's detention facility in the capital, Astana, killing two men inside the vehicle.
Officials at the National Security Committee and the Interior Ministry insist the incident -- the
second explosion near security-service buildings
in the past week -- had no links to terrorism.
Local residents told RFE/RL's Kazakh Service correspondents that they were awakened by a loud explosion that shattered the windows of nearby buildings. No injures among the residents were reported in the aftermath of the blast, which took place at around 3:40 a.m. local time.
Eyewitnesses told correspondents that they saw body parts lying around the scene. But a woman who declined to give her name said that by around 8 a.m. all body fragments and other evidence of the blast had been cleared away.
Shattered glass and blood at the scene of the early morning explosion, which was said to have killed two men inside a vehicle carrying an "unshelled explosive."
The Interior Ministry website said the bodies of two men of "European appearance" were recovered from the scene, killed by an explosive device that apparently detonated automatically.
The ministry statement also said documents belonging to a 48-year-old native of Kyrgyzstan, Dmitri Kelpler, and a 26-year-old Kazakh citizen, Ivan Cheremukhin, were found at the scene of the blast.
According to the website, both Kelpler and Cheremukhin resided in the Kazakh town of Ekibastuz, and that at least one of them had a criminal record.
The circumstances "indicate the absence of any signs of a terrorist act," the ministry statement says.
Echoing the ministry's account, the security committee's spokesman, Kenzhebolat Beknazarov, told RFE/RL that the incident "should not be linked to terrorist acts."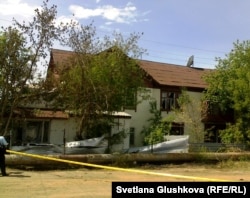 A slightly damaged home across the street from where the May 24 blast took place in Astana.
The blast in Astana comes a week after a suicide bomber in the western town of Aqtobe killed the bomber and left three others injured.
That bombing -- the first known incident of its kind in Kazakhstan -- also occurred at a security-service building.
Authorities insisted that the May 17 bombing at the entrance of the regional security services' headquarters in Aqtobe was not a terrorist attack.
The Kazakh Prosecutor-General's Office identified the suicide bomber as Rahimjan Makhatov, a suspected member of a criminal group. Authorities also said subsequently that Makhatov was a follower of an underground religious organization.
Oil-rich Kazakhstan is the most politically stable nation of Central Asia, and has avoided social strife and the kind of violent outbreaks that have occurred in neighboring Kyrgyzstan, Tajikistan, and Uzbekistan. Since its independence in 1991, the country has been run by Nursultan Nazarbaev the former communist party boss.
written by Farangis Najibullah based on RFE/RL Kazakh Service and agency reports