U.S. security officials were on heightened alert in New York and Washington after the government announced an unconfirmed threat of a terrorist attack on both cities this Sunday, the 10th anniversary of the September 11, 2001, terror attacks.
The U.S. Department of Homeland Security said there is "specific, credible but unconfirmed threat information" about new possible terrorist attacks timed for the day the country will mark the worst ever act of terrorism on its soil.
Vice President Joseph Biden and other officials have described the threat as a possible car bomb attack targeting bridges or tunnels.
In interviews on morning television news shows, Biden said officials were worried about "a lone actor" rather than an "extremely complicated plan like it took to take down the World Trade towers."
The September 2001 attacks involved at least 19 Al-Qaeda operatives who hijacked three passenger planes and crashed them into New York's World Trade Center, the Pentagon in Washington, and a Pennsylvania field. Nearly 3,000 people were killed.
U.S. Secretary of State Hillary Clinton said on September 9 that the threat of another attack on the tragedy's anniversary wasn't unexpected.
"This should not surprise any of us," Clinton said. "It is a continuing reminder of the stakes in our struggle against violent extremism -- no matter who propagates it, no matter where it comes from, no matter who its targets might be."
She said information about the threat was released to the public to "enlist the millions and millions of New Yorkers and Americans to be the eyes and the ears of vigilance."
Reuters also quoted an unnamed U.S. official as saying that the terror threat might be linked to Al-Qaeda leader Ayman al-Zawahri, who replaced Osama bin Laden after he was killed May 2 in a U.S. raid in Pakistan.
The White House has confirmed that President Barack Obama has ordered boosted counterterrorism efforts across the country.
On September 8, New York City Mayor Michael Bloomberg told a late night press conference that New York's police department "is deploying additional resources… some of which you will notice and some of which you will not."
Threat Is 'Credible But Not Corroborated'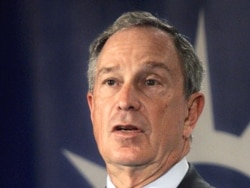 New York Mayor Michael Bloomberg
"As we approach the 10th anniversary of the 9/11 attacks, the NYPD [New York Police Dept.], the FBI, and the entire intelligence community, have been on heightened alert because we know the terrorists view the anniversary as an opportunity to strike again," he said.
"Now, the threat at this moment has not been corroborated. I want to stress that. It is credible, but it has not been corroborated."
Although there was no immediate change to the official national security threat level, authorities say they are considering such a move.
Meanwhile, New York authorities immediately announced sweeping extra security measures that include vehicle checkpoints and searches at the entrances to mass transportation systems and tunnels.
City Police Commissioner Raymond Kelly said the enhanced security measures include police "trained in heavy weapons positioned outside of Manhattan to respond citywide."
Fears Of Bomb-Laden Vehicles
Federal officials in Washington, meanwhile, said the potential terrorism threat includes the possibility of bomb-laden vehicles being used against targets either in Washington or New York.
Earlier, U.S. military bases had raised their security alert levels, but officials would not say whether this was related to the new threat report.
U.S. officials have warned of a possible backlash following the U.S. commando raid in May that killed Al-Qaeda leader Osama bin Laden at his secret compound in Abbotabad, Pakistan.
According to documents and computer files seized by U.S. commandos at Osama bin Laden's compound, the Al-Qaeda network was considering attacks in the United States to coincide with the 10th anniversary of the September 11 attacks.
Calls For A Global Counterterrorism Treaty
United Nations Secretary-General Ban Ki-moon has used the approaching 10th anniversary of the attacks to renew his call for a global counterterrorism treaty.
The UN has more than a dozen separate treaties which cover terrorism -- including bombing, hijacking, the use of weapons of mass destruction, and terrorist financing.
But during the past 10 years, negotiations on a comprehensive global convention have repeatedly broken down amid arguments over what constitutes terrorism and who is a terrorist.
Ban, speaking on a visit to Australia, said the failure to reach agreement on a global treaty was regrettable, adding that "terrorism cannot be justified under any circumstances."
Despite frequent threats and a string of failed plots, Al-Qaeda has not succeeded in mounting a major attack on U.S. soil since the attacks of 2001.
compiled from agency reports