(Editor's Note: This article was originally published on May 23, 2011.)
The music and words of Bob Dylan speak most of the languages of the world:
LISTEN: Dylan Mix In Various Languages

The iconic American singer and songwriter was born 70 years ago -- May 24, 1941 -- in the small town of Duluth, Minnesota. His paternal grandparents fled anti-Jewish pogroms in Odessa in 1905, while his maternal grandparents arrived in the United States from Lithuania.

Over the last five decades, Dylan has produced nearly 1,000 songs, many of them indispensible additions to the soundtrack of the 20th century.

It has been a career of shocking and unpredictable twists and turns -- from the anthemic protest songs of the early 1960s, to psychedelic rock poetry, to intensely personal and introspective lyrics, to songs that have been shaped by the roots traditions of American country and blues music.

And his influence has been truly global. One online database lists more than 32,000 cover versions of his songs, in languages from Catalan to Esperanto, from Icelandic to Khmer.

"I think Dylan's greatest achievement is that he taught musicians how to write lyrics, and he taught the whole world to listen to the lyrics," says Svyatoslav Vakarchuk, a musician with the Ukrainian rock band Okean Elzy. "Before him, the lyrics in popular songs were just a supplement to a nice melody, simply a set of memorable words. After Bob Dylan's appearance, musicians started thinking that it was possible to convey their own thoughts through music and even carry out social experiments by playing guitar or through singing."

Kyrgyz rocker Bakyt Kydykbaev, leader of the band Salty Peanuts, agrees.

"Bob Dylan changed the nature of rock music. That's a great contribution," Kydykbaev says. "While people even in the West in the 1960s accepted rock music as a light, pop genre, Bob Dylan started using strong words with strong meanings."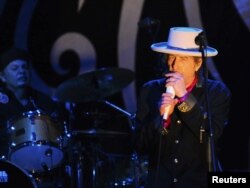 Touring the world almost nonstop, Dylan performed a show in Ho Chi Minh, Vietnam, in April.

Armenian singer and guitarist Ruben Hakhverdyan wrote his popular 1960s song "My White Dove" under the influence of Bob Dylan's classic "Blowing In The Wind."

"I think that song was about freedom -- that song had made such a huge impression on me," Hakhverdyan says. "I was impressed that freedom is sleeping on the wings of the wind and so on. And it was under that influence that I wrote that particular song."

Alexandru Andries is a Romanian folk singer and songwriter who has translated many of Dylan's songs into Romanian and put out an album of Dylan covers in 1999. He remembers first hearing Dylan during the darkest days of Nicolae Ceausescu's regime.

"For me, the first song that really impressed me was 'A Hard Rain's A-Gonna Fall,' first of all because it was incredibly long, which was not usual at that time," Andries says. "And second, because the words were really meaning something. Of course, on the other hand, we had [The Beatles'] 'Hey, Jude,' which was a very long song, but the words didn't mean so much."

Andries says Dylan represented "a special kind of freedom." Like many in the Soviet bloc, Andries first heard Dylan through a Radio Liberty program called "Metronome," which was wildly popular in Romania, as well as Bulgaria, Poland, Czechoslovakia, East Germany, and the Soviet Union. It was hosted by jazz critic Cornel Chiriac.

Here is Chiriac on February 8, 1975, introducing Romanians to Dylan's classic album "Blood On The Tracks," released just a couple of weeks before:
Cornel Chiriac Introducing Romanians To "Blood On The Tracks" In 1975

Translation: "Today we'll listen to Bob Dylan's new album, an album received with mixed reactions by the critics. Nobody knows if it should be praised or criticized. While 'Melody Maker' and 'New Musical Express' reviewers struggle with this dilemma (to criticize or not), a journalist writing for the English magazine 'Disc' begins his article by expressing a truth that must be taken into account when we speak about 'Blood On The Tracks': listening to it is like listening to Dylan's music for the first time. Here's 'Tangled Up In Blue…'"

At the age of 70, Dylan is as active as ever, performing more than 150 concerts a year and still producing albums of powerful, original material. He is reportedly working on the second volume of his memoirs and has in recent years begun exhibiting his paintings.

In April, he played his first-ever concert in Beijing, opening the show with a song from his Christian period that begins:
"Gonna change my way of thinking / Make myself a different set of rules. / Gonna put my best foot forward / And stop being influenced by fools."

Last year, Russian rocker Yury Shevchuk got into a very public spat with Prime Minister Vladimir Putin over the state of human rights in Russia. In a show of support, the Irish band U2 invited Shevchuk onstage at their Moscow concert for an ecstatically received rendition of Dylan's ode to mortality, "Knocking On Heaven's Door."

Robert Nemecek plays bass for the Serbian rock band Pop Masina. He says that Dylan's concert last year in Belgrade was a major event that shows how the country has changed since 1991.

"I am sorry that when Dylan first came to Serbia in 1991, on the eve of the war and all those stupid things, the people at the concert didn't understand what Dylan was actually bringing to them," Nemecek says. "Among other things, that Belgrade concert was probably the best on that tour. For example, there was a fantastic version of the song 'New Morning,' which was maybe the best version of that song in that decade.

"My heart was full last year when Dylan came to Belgrade again and gave a fantastic concert. Things finally somehow fell into place because people finally understood that Dylan is something that cannot be compared to anything else. And when he is gone, he will remain a landmark against which developments in music and other forms of art will be compared."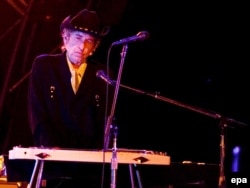 "Bob Dylan is one of those geniuses who are relevant in every time period and in every country." Here he is in Roskilde, Denmark, in June 2006.

Georgian music producer Giorgi Asanishvili is emphatic that Dylan's work, from throughout his long career, speaks to people in his country as well.

"Bob Dylan is one of those geniuses who are relevant in every time period and in every country," Asanishvili says. "He is very relevant to present-day Georgia, too. Sadly so, I would say, because a lot of injustice still takes place here."

Asanishvili welcomes the inward direction that Dylan's songwriting has taken in the last decade or so.

"I think today we are living in such times that singing about love has itself become kind of a protest act," he says. "Things have become so debauched -- so much pointless music and poetry and literature are being produced about love that to write a beautiful love song or a poem is, in itself, a protest against all this. And I think this is what Bob Dylan is doing at present."

RFE/RL's Armenian, Georgian, Moldovan, Kyrgyz, Balkans, and Ukrainian services contributed to this report