WASHINGTON -- U.S. boxing legend Muhammad Ali has publicly appealed to Iran's Supreme Leader Ayatollah Ali Khamenei to release two Americans who have been held in the Persian Gulf state for 662 days on spying charges.
Ali and several other prominent U.S. Muslims said in a letter to Khamenei, read at the National Press Club in Washington on May 24, that the prisoners should be released on the basis of compassion and kindness "following the example of Prophet Muhammad."
"After listening to the families, we believe these Americans did not seek to cause any problems between the United States and Muslim world or the United States and Iran, but were in the region for the opposite purpose, to promote dialogue and understanding," the letter said.
The two detainees, Shane Bauer and Josh Fattal, who are both 28 years old, maintain their innocence.
Along with Fattal's fiancée, Sara Shourd, they say they were taken into custody in July 2009 while hiking near Iran's border with Iraq.
After repeated calls from Washington for their release, Shourd was freed on $500,000 bail in September 2010.
Ali, the 69-year-old former world heavyweight boxing champion who suffers from Parkinson's disease, was in attendance at the release of the letter, but did not speak.
He converted to Islam in 1975.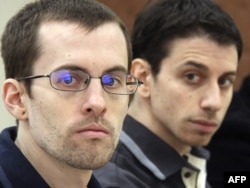 Shane Bauer (left) and Josh Fattal during the first session of their trial at the Tehran Revolutionary Court in February
Speaking on Ali's behalf, his wife, Lonnie, said the people of Iran are "good people in their heart" regardless of relations between Washington and Tehran, and that this could be the basis for the Iranian authorities to ensure the "compassionate release" of the two American detainees.
She added that when Ali was young, he "wanted to experience the world" like the detainees.
Speaking to RFE/RL after the press conference, Lonnie Ali said the Iranian supreme leader had not responded to an initial letter her husband sent him in February, which contained a similar plea for the young men's release.
She added, however, that she believes Khamenei has received the letter.
Indecision And Delays
Bauer's mother, Cindy Hickey, Fattal's mother, Laura Fattal, and Shourd were also present. The mothers of the detained Americans have kept up a campaign lasting several months to raise awareness about their children and work toward their release.
Laura Fattal said Iran's "indecision and delays" have taken a heavy toll, both on the families and the prisoners, who she said are being held in total isolation.
Shourd, who said the detention of the U.S. citizens "has everything to do with animosity between the United States and Iran," expressed hope in an interview with RFE/RL's Radio Farda that this latest appeal would not fall on deaf ears.
'Utmost Urgency'
"After [Fattal and Bauer's] last court session was canceled [on May 11], I have hope that the Iranian authorities have decided that Shane and Josh don't need to be tried and their humanitarian release is in the works," she said.
Josh's brother, Alex Fattal, who fought back tears while speaking about the plight of the hikers, said their detention is "a humanitarian issue of utmost urgency."
"We heard recently in the phone calls that Josh and Shane had been on hunger strike for 17 consecutive days to receive letters," he said. "That breaks our hearts. We want them home and we want them home as soon as possible."
Earlier on May 24, Iranian Foreign Ministry spokesman Ramin Mehmanparast told state television that the detained Americans are not hikers.
"They have committed offenses and using the term 'hikers' for them is a joke," he was quoted as saying.