WATCH: Police tried to prevent looting and firefighters worked to extinguish blazes in the London suburbs of Ealing and Croydon late on August 8, the third day of rioting in the British capital. (Video by Reuters)
Rioting has taken place in English cities and towns for a fourth night since a local demonstration over a police shooting erupted into violence in the capital, London.

The worst reported violence the night of August 9 occurred in Manchester, Britain's third-largest city, where gangs of youths are reported to have looted stores, clashed with police, and set fires.

Manchester Assistant Chief Constable Garry Shewan said looting and arson had taken place in the city on an unprecedented scale.

He denounced the rioters, saying their violence seemed to be motivated mainly by simple criminality.

Disturbances were also reported in Liverpool, West Bromwich, Wolverhampton, Nottingham, and elsewhere.

In London, meanwhile, officials said up to 16,000 police were being deployed in a bid to prevent a fourth straight night of rioting, arson and looting in the British capital.

Reports say police across England have made more than 1,100 arrests since the wave of violence erupted on the weekend.

The unrest has led to the cancellation of a soccer match in London scheduled for August 10 between England and the Netherlands.

British Prime Minister David Cameron has recalled parliament from its summer recess to respond to the unrest, and has vowed to defeat the rioters.
Violence first broke out late on August 6 in the low-income, multiethnic district of Tottenham, in north London, where outraged citizens demonstrated against the fatal police shooting of 29-year-old Mark Duggan, a father of four who was gunned down in disputed circumstances on August 4.
But as the unrest spread, some pointed to rising social tensions in Britain as the government slashes $130 billion from public spending by 2015 to reduce a huge budget deficit that has swollen after the country spent billions to bail out foundering private banks.
Cameron emerged from crisis talks on August 9 saying his government would do all it can to restore order, describing what had happened as "sickening."
He said parliament would return from recess for a day on August 11 over the crisis.
But he stopped short of calling for the deployment of army troops in the worst-hit neighborhoods, saying instead that a bolstered police force would be able to restore order.
Cameron also dismissed descriptions of the rioting as social unrest, saying the violence in London and several other cities was "criminality, pure and simple" that has to be "confronted and defeated."
"There has already been 450 people arrested. We will make sure that court procedures and processes are speeded up, and people should expect to see more -- many more -- arrests in the days to come," Cameron said.
"I am determined, the government is determined, that justice will be done -- and these people will see the consequences of their actions."
The number of arrested in London has risen to more than 550, with police continuing to search for suspects.
Officials said London's jails had been quickly filled to capacity.
Police said a man shot in London's Croydon neighborhood during the rioting late on August 8 had died -- the first fatality of the unrest.
More than 100 police officers have been reported injured.
The Association of British Insurers has estimated that the damage could cost tens of millions of dollars.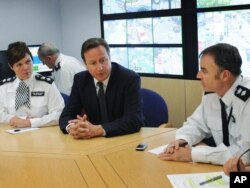 Prime Minister David Cameron (center) talks to senior police officers during a visit to the Metropolitan Police's Gold Command headquarters in Lambeth, in south London, today.
With police struggling to keep pace with the chaos, Cameron acknowledged that the rioting has badly stretched police resources.
Late afternoon August 9, RFE/RL's Radio Farda correspondent Shahran Tabari said London's usually bustling Camden Town district was largely shuttered and tensions were running high.
"I do feel tension in the streets. People are hurrying up to go home before dark and anyone I talk to says, 'We just want to go home and lock the doors. We don't want to be here. It's not safe enough,'" she said, "although they do say that the police numbers are much higher tonight than they were before and they're hoping that the police can tackle the problem tonight and it will be more or less the end of it."
London resident Daniel Bowden spoke to RFE/RL from one of the few open bars in the neighborhood and said he wouldn't be there for long.
"Everyone's just really on their mobile phones and just chatting -- almost really waiting for something to happen, because we all expect something to happen," Bowden said. "We're all just going to go home and lock the doors and hold tight."
Calls For Force
Croydon resident Larry Humphries, who witnessed the rioting, was simply dumbfounded by the lack of law enforcement in his neighborhood.
"The looters had the freedom to break into any shop around," Humphries said. "Left, right, they kicked it in, they will loot. Some of them were unable to carry so many things that they left it, as though they are waiting for a taxi to come and pick them up. And we were all here watching -- people were here watching. What I couldn't understand was: Where was the helicopter? Where were the police in riot gear? Where were the dogs and so on?"
London resident Hira Khawaja, whose flat was destroyed by an arsonist, said she didn't see any deeper cause to the violence than bored, unemployed teenagers amusing themselves.
"They were just teenagers. I think they were having fun," she said. "But for them, it is fun, but for other people, it is life. They shouldn't do that."
Although authorities were unwilling to impose a night curfew in the troubled neighborhoods, acting London police commissioner Tim Godwin called for residents to stay off the streets amid the rioting so that police are better able to go after looters and arsonists.
Some officials today also called for BlackBerry Messenger instant-messaging service to be suspended after rioters used it to mobilize.
The riots -- and the police's inability to quell them -- has also raised concern about London's preparedness to host the 2012 Olympic Summer Games.
compiled from agency reports