Parts of London ablaze, people screaming, mobs advancing. OK, it's time to pull out the big guns. Cue "Operation Cup of Tea."
No, it's not the next James Bond movie. It is a massive online campaign in response to this week's violence in England, in which scores of buildings and stores were demolished and more than 1,000 people arrested.
The new initiative, which describes itself as an "antiriot," recruits the calming, classically British beverage in a bid to end the violence.
"We don't need to riot, and this is how we will show it," says the
Facebook page
, in which people upload photos of themselves drinking tea. It now has some 300,000 fans and has become a hugely popular trending topic on Twitter (
#OperationCupofTea
).
The online movement comes as social media is under heightened criticism in Britain, with police describing rioting youths using Twitter and BlackBerry Messenger to organize riots and communicate looting opportunities in various cities.
Messages sent by Blackberry Messenger are largely untraceable, and the device's role in the criminality sweeping Britain has been seen by some as the "dark side" of social media.
Sam Pepper doesn't agree. He says his "Operation Cup of Tea" shows that social media is merely the scapegoat.
"I think it's a really good way to say, look, we gathered 200,000 people," he says. (That was August 10; some 100,000 more people have joined in the last 24 hours.)
"So you can't say social media is to blame for everything," he argues. "You can see there are 200,000 of us who've gotten together to say, 'We're not rioting'," adding that it's "a hell of a lot more" than the number on the streets.
'Calm Everyone Down'
Pepper says he hopes people will continue their tea-drinking antiriot until the violence stops. Money raised by the initiative -- Pepper has floated the possibility of selling tea -- is to be put toward rebuilding areas damaged by the riots.
Pepper is a former contestant on the popular British reality series "Big Brother" and has some 8,000 fans of his own on Facebook. He describes himself as "just a 22-year-old" who wanted to "do something just to calm everyone down and make everyone feel a bit more safe."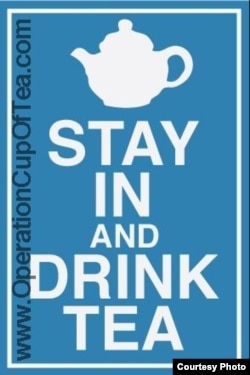 That's hardly the sentiment associated with Britain's younger generation today, with police saying much of the violence was fueled by the country's restive youth.
The riots began August 6 after a protest over the police shooting of a man in London's Tottenham neighborhood, an economically disadvantaged area, turned violent.
Tottenham resident Edgar Thomas witnessed that first protest. He says if authorities really "want to get this sorted" then "they need to get a spokesperson for the youth so they can speak to the government properly, so they can understand what's really going on."
He says there are no youth clubs in Tottenham, noting that "if you go to someplace like Hadley Wood, where everyone's rich, all the white people are rich," they have youth clubs.
"My point is they are rich up in certain areas, but they've got better prospects than everyone in the poor areas," he explains. "All we need is youth clubs. Something to keep the youth occupied. It's six-weeks' [school] holiday; they have nothing to do for the whole six weeks. Parents do not have money to give their children."
Trying To Find A Motive
Police say the motivation behind the unrest appears to be simple criminality, but Prime Minister David Cameron has recalled lawmakers from their vacations to further discuss the riots -- the worst seen in London in more than 20 years.
It is unclear what is behind the violence, with disturbances first reported in poverty-stricken immigrant areas with a history of racial violence but later spreading to more affluent regions and to other cities. Authorities have struggled to keep the mobs under control, resulting in unprecedented incidents of looting and arson.
Some say the violence was motivated by pure greed. One Tottenham native, a man who declined to give his name but says he has lived in the area "all my life," told RFE/RL on August 10 that quite simply, "Kids are greedy."
"They see a lot of consumption and they want a piece of it," he says. "I also think it's been the buildup of a lot of stuff -- a lot of tension, a lot of boredom, unemployment -- and it's just been the release of anger. But I also think it's just greed as well."
"I think it's just exploded," he says. "And that's it, really."
Pepper agrees, saying he thinks the root of the violence is "opportunistic," adding, "Everyone's just rioting against the system."
History Of Violence
Police say messages exchanged by Blackberry suggest purely criminal intent. One message released by the authorities reads: "If you're down for making money, we're about to go hard in east London."
But Thomas thinks the whole thing will take a lot more than a cup of tea to resolve. He says friends of his who participated in the riots were brutally beaten by the police, accusing authorities of a history of violence toward the disadvantaged.
Thomas says this was encapsulated in the case of Mark Duggan, the Tottenham resident killed by a police bullet last week in an incident that angered locals and helped trigger the riots. Britain's police watchdog announced on August 9 that there was no evidence the 29-year-old Duggan, a black father of four, had fired at the police.
"At the end of the day, this is the police's fault," Thomas says. "If you're in control, you should be able to control things. This riot wouldn't have even started if they had come out and given an answer to what happened [to Duggan]. If they had come out and told his parents, or the people outside there -- they were protesting peacefully -- what happened, do you know? Pushed away, go away. No, no. This is all the police's fault."
Whoever's fault it is, the massive support for "Operation Cup of Tea" shows that few want the violence to continue. One 40-year-old man sitting in a Tottenham cafe anonymously voices the sentiments driving the movement.
"Well, let's just get back to normal and stop all the stealing," he says. "And the muggings. And the terror."
And maybe have a cup of tea.