Two top EU officials have arrived in Serbia to push Belgrade into stepping up reforms necessary for the Balkan country to become a candidate for membership in the bloc.
EU Commission President Jose Manuel Barroso and Enlargement Commissioner Stefan Fuele will also travel to Kosovo during their two-day trip to the western Balkans.
The pair also initially planned a stop in Albania, but canceled that part of the trip today due to the political situation there.
Albania's local elections earlier this month were marred by violence and the opposition this week called for widespread protests over the disputed mayoral vote in the capital.
Barroso's spokesman, Michael Karnitschnig, told RFE/RL that Europe's door remained open to all three countries but that they had a "lot to do in terms of political and economic reforms."
Serbia's Chances In The Balance
Brussels is especially keen to give an extra push to Serbia, with Belgrade hoping that the EU Commission will recommend it for EU-candidate-country status when Fuele presents a comprehensive overview of the enlargement process in October.
Right now, Serbia's chances hang in the balance.
Brussels has been impressed by the economic reforms carried out by the Serbian government in recent months but it also acknowledges that the global economic crisis hit the country hard and that this has contributed to rising discontent among many ordinary Serbs.
Individuals close to the enlargement process say the commission is keen to give Belgrade the green light in October.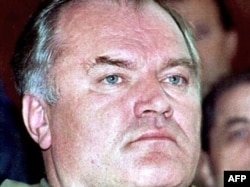 Serbia "must do more" to catch war-crimes fugitives like General Ratko Mladic.
There is, however, greater skepticism about whether the European Council, consisting of the 27 EU member states, will ultimately grant Serbia candidate-country status.
Serge Brammertz, the chief prosecutor of the International Criminal Tribunal for the former Yugoslavia (ICTY), has said Belgrade must do more to catch the two remaining fugitives sought by the tribunal -- Bosnian Serb wartime army commander Ratko Mladic and Croatian Serb wartime leader Goran Hadzic.
And the European Parliament's delegations for relations with the countries in Southeast Europe have also criticized Serbia.
Kartnitschnig said Barroso will stress that Serbia still has "a lot to do as regards political criteria."
"When you think about judicial reform, when you think about fighting organized crime and corruption, when you think about, last but certainly not least, the cooperation with [the] ICTY, these are very important and essential issues in our opinion that need to be tackled," he added.
Relationship With Kosovo Is Critical
The relationship with Kosovo, which declared independence from Serbia in 2008, will also have a huge impact on Belgrade's EU bid.
EU-sponsored talks between Belgrade and Pristina, which started earlier this year, have so far produced few concrete results.
The talks were supposed to settle unresolved issues such as problems with civil registries, car license plates, property, and the movement of people.
Katnitschnig said the EU would not try to force Serbia to recognize Kosovo as an independent state and that the result of the current dialogue won't have a direct bearing on Belgrade's possible candidate status. But he said both sides had to show a willingness to reconcile if they are to move closer to the EU.
The talks that both Barroso and Fuele have planned with the Kosovar prime minister, Hasim Thaci, on May 20 are also likely to prove somewhat difficult after the report issued by Dick Marty on behalf of the Council of Europe in December.
The content of the report, which alleged that Thaci had been involved in the illicit trafficking of human organs, is not part of the agenda even though Kartnitschnig will not rule it out completely.
"This is a sensitive matter that is a very, very serious cause for concern," he said.
"We take these allegations seriously and they must be sought out and investigated to the bottom. That is why we have [a] special investigation unit in EULEX, the European Union rule of law mission in Kosovo.
"It is EULEX that has built the jurisdiction and the competence to deal with these very serious allegations and it should investigate them… We expect the authorities of Kosovo and all political players in Kosovo to cooperate with EULEX on that."