Thousands Pack Cairo's Tahrir Square For Protest And Celebration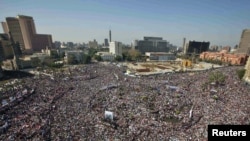 Thousands of people today gathered in Cairo's Tahrir Square, the epicenter of protests that brought down Egypt's president Hosni Mubarak.
The demonstrations were called to celebrate one month since the start of protests that forced Mubarak to resign after 30 years in power and also to urge the country's military rulers to purge the cabinet from ministers appointed by the ousted president.
On the eve of the rally, the military assured Egyptians there would be "no return to the past" of the Mubarak era.
In a statement on February 24, the military also urged Egyptians to guard against "attempts to create strife."

compiled from agency reports