On May 9, 2004, Akhmed Kadyrov, then the president of Chechnya, was killed in a bomb attack at Grozny's Dynamo soccer stadium.
Seven years and two days later, his son Ramzan, now himself Chechen leader, inaugurated a new $280 million soccer stadium in honor of his slain father.
But the new A.A. Kadyrov Sport Complex is about more than filial loyalty. It's also a symbol of Ramzan Kadyrov's growing passion for soccer as a means of nudging his war-torn republic in Russia's North Caucasus region into the international limelight.
The highly orchestrated launch on May 11 was no mere song-and-dance gala. Instead, the event culminated with a star-studded friendly match pitting the local club, FC Terek Grozny, against a host of global soccer greats, including Argentine legend Diego Maradona, Portugal's Luis Figo, England's Steve McManaman, France's Jean-Pierre Papin, and Italy's Franco Baresi.
Surprisingly,
the star-studded team lost 5-2 to its host
. The 34-year-old Kadyrov, whose team was composed of local officials and professional soccer players, didn't score himself, although the announcer said he assisted in most of his team's goals.
Chechen officials have strongly denied paying foreign players to participate in the game, despite questions over what could have brought so many soccer icons to remote Chechnya.
Beyond playing into the volatile republic's self-touted recovery, this soccer showcase should also enable Grozny to burnish the image of Russian soccer as the country prepares to host the 2018 World Cup.
Former FIFA World Player of the Year Luis Figo was pretty impressed with what he saw. "It's like a city that is improving in terms of infrastructure," he told Reuters. "I just hope in the future it will get better and people can live very well here."
Grozny is not on the list of the 13 cities bidding to host World Cup matches, although Kadyrov has voiced interest in seeing that change.
Personal Touch
Even before the stadium project -- which includes two training fields as well as swimming pools, tennis courts, and rings for boxing and wrestling -- Kadyrov had invested still more millions in developing Chechnya's soccer culture. Last autumn, he signed Ruud Gullit, the former captain of the Dutch national team and onetime European Footballer of the Year, to coach Terek Grozny, and imported talented -- if not well-known -- players from Brazil, Argentina, and Cameroon.
And earlier this year, Kadyrov hosted a friendly match pitting a team of Chechen players against stars from Brazil's 2002 World Cup-winning line-up, including Romario and Dunga.
Chechens, including pensioners, some of whom lived as far as 100 kilometers away, were enlisted to work on the new $280 million stadium in Grozny.
Kadyrov personally captained the Chechen side, which unsurprisingly lost, but by surprisingly little: just two goals. One of the Brazilian players in the 6-4 match, Rai, later acknowledged his team had been urged to go easy on the Chechen side. More significantly, Rai expressed "deep regret" for agreeing to participate in the match before learning more about Kadyrov's human rights record.
The Chechen leader has long overseen a personal militia blamed for kidnappings and torture in the postwar republic. But he has also effectively quieted many critics by imposing a level of stability not seen in Chechnya in more than 15 years.
All in all, Chechnya's reputation for unrest -- including a recent week that saw 28 people killed and 18 wounded in armed conflicts -- has done little to prevent Kadyrov from seeking to transform his war-torn North Caucasus republic into a 21st-century hub of business and sport.
'Volunteer' Labor
Chechnya is oil-rich, but Kadyrov's largesse depends in large part on generous patronage from Russia's federal government, which subsidizes the republic to the tune of some $2.2 billion per year. But many inside Chechnya say that the wealth has failed to trickle down to average citizens, nearly half of whom remain unemployed, according to official statistics. Kadyrov has pledged to pour funding into job creation. But in the meantime, when it comes to pet projects like the soccer complex, he's also proved willing to look to the Chechen public as a source of free labor.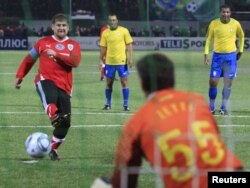 Ramzan Kadyrov (left) kicks a penalty during a friendly match between Chechnya and Brazil on March 8.
Many Chechens who spoke to RFE/RL's North Caucasus Service said they were pulled from work or school multiple times in the months before the stadium launch to engage in Soviet-style "subbotniki" -- not-quite-voluntary community cleaning projects aimed at sprucing up the sports complex before its debut.
Hundreds, if not thousands, of people were forced into contributing their services, often at the cost of lost work and school days. One school principal -- who asked that her name not be used in order to protect her safety -- told RFE/RL she was forced to press her teaching staff into service at the stadium.
"I told them: 'It's up to you, but not going is not an option. And particularly on May 1. This matter, comrades, is political. If we don't go, then you and I both know what will happen. So let's decide this matter right away and put an end to it. All the schools have already gone there. And the day after tomorrow we're going as well.'"
The director went on to describe entire lists of residents, including pensioners, from different villages -- some as far as 160 kilometers away from Grozny -- who were enlisted to work at the stadium. None received any payment, and most were even expected to provide their own cleaning supplies, transportation, and food.
Getting Political
In addition to preparing the stadium site, workers were also asked to paint the facades of the dilapidated tower blocs surrounding the new stadium. The buildings received no structural repairs but have been painted a blinding shade of orange, in an apparent homage to Dutch coach Gullit.
Students and workers have also been summoned to attend tonight's opening ceremony, with all schools and universities expected to fill a quota in order to ensure that the stadium's 30,000 seats -- 9,000 more than the stadium of Russia's most popular team, Zenit St. Petersburg -- are filled for the gala event.
Last autumn, Kadyrov (left) signed Dutch soccer legend Ruud Gullit to coach Terek Grozny.
Other Russian clubs have grumbled at the extravagance of Grozny's new stadium, saying a middling team like Terek -- which finished 12th overall in the 2010 Russian Premier League -- hardly merits a lavish new home.
But the new stadium is as much about politics as it is about soccer. The May 11 friendly match, for example, will see the local side captained by Aleksandr Khloponin, the powerful head of Russia's North Caucasus Federal District. And Kadyrov has already expressed a wish that the new complex will host at least some of the games when Russia hosts the football World Cup in 2018 -- an achievement that would be likely to boost Chechnya's credibility on the global stage.
Regional Trend
Kadyrov is not alone in his soccer strategy. Across the former Soviet Union, many governments have sought to use the beautiful game as a stepping stone to global esteem, hiring foreign players and celebrated coaches to signal their growing wealth and influence.
Zenit is managed by Italian Luciano Spalletti, while the Russian national team is managed by Holland's Dick Advocaat. Several Moscow sides have attracted foreign players as well, some offering contracts for as much as $15 million.
Uzbekistan shocked the sporting world in 2009 when it secured a staggering $20 million deal with Luiz Felipe Scolari, the former Brazil and Chelsea manager, for its own start-up team, Bunyodkor. The team, which was founded only in 2005, was believed to be part of the vast network of businesses controlled by Gulnara Karimova, the daughter of the country's president. Scolari left the team mid-contract after a disappointing season.
Energy-rich Azerbaijan also recently tempted Tony Adams, the former Arsenal and England defender, to take over its FC Gabala, a brand-new club located four hours from the capital, Baku.
And closer to Chechnya, Anzhi Makhachkala, a club in Daghestan that enjoys the patronage of oil and metals magnate Suleiman Kerimov, recently made headlines when it offered $7 million to hire Brazilian player Roberto Carlos. Anzhi -- which finished on the lower end of Russia's top league last year -- has indicated it is still confident of securing other international players, despite the republic's chronic unrest and a stadium that compares poorly to, say, the Akhmed Kadyrov complex.
The bullish strategy has come under criticism elsewhere in Russia. Zenit midfielder Roman Shirokov was quoted as saying, "It seems natural to create favorable conditions for playing in Makhachkala before signing top-class players," he said. "Not vice versa."