U.S. Secretary of State Hillary Clinton has paid a brief visit to Japan to express support as that country grapples with a nuclear crisis following last month's devastating earthquake and tsunami.
Clinton voiced confidence that Japan will overcome the disasters and urged the nation, a key U.S. ally in Asia, to remain active on the international scene.
"We are very confident that Japan will demonstrate the resilience that we have seen during this crisis in the months ahead as you resume the very strong position that you hold in the world today," she told a news conference after talks with Foreign Minister Takeaki Matsumoto.
Clinton reiterated Washington's support at a meeting with Prime Minister Naoto Kan.
The massive earthquake that hit Japan on March 11 and the tsunami it unleashed have killed up to 28,000 people and crippled a nuclear power plant near the northeastern town of Fukushima that has effectively been leaking radioation ever since.
Total damages have been estimated at $300 billion, making it the world's costliest natural disaster.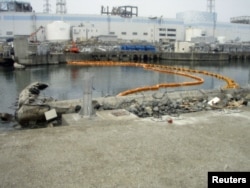 A floating silt fence in place in an effort to block the spread of contaminated water from Japan's crippled Fukushima Daiichi Nuclear Power Plant
Shortly after Clinton's comments, the operator of the stricken nuclear plant, Tokyo Electric Power Co (TEPCO), said it hoped to achieve a cold shutdown and
bring the crisis under control within six to nine months
.
The disasters have also hurt the Japanese economy, the world's third largest.
Clinton, who was accompanied by U.S. Chamber of Commerce President Thomas Donohue, encouraged U.S. citizens to continue working, traveling and investing in Japan.
She said the two countries had agreed to create a public-private partnership to encourage investment in the recovery effort, under the guidance of Japan's government.
"We are going to be looking to the Japanese government and its plans for recovery, and through our consultations determine how best to utilize our assistance in an appropriate way," Clinton said. "And this public-private partnership will be one of the ways that we offer whatever help we can going forward."
Washington initiated operation "Tomodachi" -- Japanese for "friend" -- deploying thousands of troops, military aircraft, and navy ships stationed in or near Japan to help with relief work in Japan's devastated northeastern region.
Matsumoto said his country was deeply grateful for the solidarity shown by the United States.
"What was seen in the cooperation during the disaster this time was the current existence and continuing need for the relationship and friendship between the United States and Japan, including the U.S.-Japan security alliance," Matsumoto said. "I believe everyone felt the friendship shown by U.S. forces quite strongly."
Clinton also met briefly with Emperor Akihito and Empress Michiko.
compiled from agency reports