Consumers Brace Themselves As Belarus Floats Ruble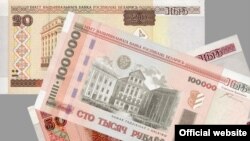 The Belarusian ruble has fallen sharply against the dollar after the country, mired in a deep economic crisis, let its currency float freely.
The fall -- of some 38 percent -- amounts to this year's second planned currency devaluation, bringing further pain to consumers.
The central bank said Belarus as of September 14 would allow free trading of the ruble during special sessions where the exchange rate would be determined by the market.
Trade for gas and electricity, however, will continue to be carried out at a different preferential rate.
At the end of the session on September 14, the Belarusian ruble reached 8,600 from 5,347 per dollar and 12,100 from 7,281 per euro.
However, Belarus National Bank Deputy Chairman Taras Nadolny denied the ruble's plunge amounted to a devaluation.
"We are not talking about any kind of devaluation of the Belarusian ruble now, simply because there is no point of reference," he said. "There is an official rate and our strategic task is to make it a single, stable [rate]."
Commenting on different exchange rates that sprung up in various commercial banks, financial analyst Valery Palkhouski told RFE/RL's Belarus Service that the banks "are just uncertain and not in any hurry to make decisions. The situation is marked by uncertainty. So we have to wait and see."
Rocketing Inflation
Belarus is struggling with a balance-of-payments crisis that forced a 36 percent devaluation of the ruble in May, fueling inflation and damaging industries that are dependent on imports.
Hard currency has almost disappeared from the country, leaving people lining up at money exchange offices in the hope of getting dollars, euros, or Russian rubles. Inflation is running at an annual rate of more than 40 percent.
The move brings the exchange rate close to where it already has been on the black market.
"I view this as an attempt to achieve a single exchange rate, or at least to acknowledge the reality that since the beginning of the year the Belarusian ruble has lost 2.8, 2.9 times its value," said Stanislau Bahdankevich, a former National Bank chairman.
"This is in itself good, because until now it was impossible for citizens or owners of small to medium-sized businesses to legally purchase hard currency," he added. "This rate was no doubt achieved through the employment of administrative levers but, in my view, it corresponds to current realities in the Belarusian economy."
The balance-of-payments crisis stems in great part from an increase in public spending late last year ahead of the presidential election, controversially won by Alyaksandr Lukashenka, who has been running the former Soviet republic since 1996.
In a bid to control inflation, the central bank on September 12 raised its main rate for the ninth time this year to a European high of 30 percent, effective as of September 14.
The move to float the ruble is being promoted by the International Monetary Fund as a way to address the cause of Belarus's currency crisis -- its large trade deficit.
Moody's Investors Services said earlier this month that the measure should help shrink the country's large current-account deficit. The ratings firm said it should also force "improvements in productivity to compensate for the loss of cheap credit and imports."
Minsk received a $3 billion loan from the Russia-led Eurasian Economic Community in June after agreeing to demands for reforms as well as a pledge to sell state industries.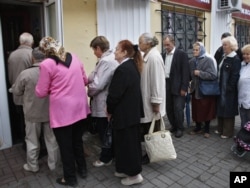 Belarusians wait in line to buy meat. When the ruble was devalued earlier this year it resulted in the panic buying of staples and huge queues at foreign exchange offices.
Minsk has said it was also seeking a stabilization loan of up to $8 billion from the International Monetary Fund (IMF) after receiving $3.5 billion in 2009.
But the IMF dealt a blow to the Belarusian government on September 13, urging Minsk to show "commitment to strong policies and structural reforms" before it qualifies for more financial aid.
Lukashenka: Belarus Is Being 'Strangled' By The West
In a report on its website on September 13, the IMF said the former Soviet republic's efforts to resolve the crisis had so far been "insufficient to restore market confidence."
The Washington-based lender said the announced measures were "not being consistently implemented: the multiple exchange-rate system persists, and interest rates are still negative in real terms."
The IMF expects Belarus's gross domestic product to grow 5.5 percent in 2011 and to slow to 1.5 percent in 2012, while the 12-month inflation rate is to accelerate to more than 50 percent by the end of the year.
The IMF cited the unsettled political situation in Belarus, including the crackdown on the political opposition and Western sanctions against the government, as further risks.
Lukashenka railed against the IMF on September 9, when he said its negotiators were "demanding that we free political prisoners," adding: "they are economists and financiers, what do they know?"
Lukashenka also accused the West of trying to "strangle" his country as it struggles through its economic crisis.
The IMF plans to send another team to Belarus on October 5-17 to assess the situation.
with agency reports