Kazakh Criminal Case Opened Over Police Actions In Zhanaozen Deaths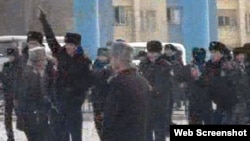 Kazakhstan's Prosecutor-General's Office has launched a criminal investigation into actions taken by police during riots earlier this month in the western city of Zhanaozen that left more than a dozen protesters dead.
Nurdaulet Suindikov, a spokesman for the office, told reporters in Astana that the investigation would seek to determine whether individual police abused their powers by firing on protesters with the intention of killing them.
In the wake of the deadly riots, which erupted when striking and recently fired oil workers gathered in the city during Independence Day celebrations, police said they fired their weapons only into the air or the ground.
According to official figures, at least 16 people were killed and more than 100 were injured, including 17 police officers, during the unrest.
Suindikov said it was too early to discuss "concrete names" involved in the investigation and that prosecutors were awaiting the conclusion of forensic tests. He said that "bullets are being examined, too, to determine what kind of bullets they are, and from which type of weapon" they were fired.
Amateur videos posted to the Internet by residents of Zhanaozen appeared to show police firing at people as they fled the scene of the protest, seemingly contradicting official claims that police only fired into the air or ground and only in self-defense.
RFE/RL's Kazakh Service reported earlier this week that police were reportedly
trying to track down
the person or people who recorded
one of the most disturbing
of those videos, posted by a user called "saule540."
Another video
has since emerged in which apparent gunfire erupts.
On December 28, Interfax reported that the city prosecutor had summoned journalists from a local web portal, Stan, for questioning and asked that they submit copies of all video material taken during the unrest.
Will Officials Be Held To Account?
Officials have announced that video taken by security forces during the unrest is being analyzed, but the probe marks the first time Kazakh officials have publicly acknowledged the use of firearms by police.
The Prosecutor-General's Office does not necessarily hold police responsible for all the deaths, however.
"As it was pointed out before, some of the deaths are not connected to law-enforcement officers' actions," Suindikov said. "For instance, the father of one of the victims -- schoolteacher Dyukesenov Atabergen -- says that his son was killed by hooligans for taking students to a festive event."
Also on December 29, authorities announced that more than two dozen opposition activists had been detained as part of the prosecutor-general's investigation. Interfax reported that some of the detainees could face charges of arson and looting.
Impoverished oil workers in Zhanaozen and other parts of the Manghystau region have been holding peaceful protests since May, demanding better wages, improved working conditions, and greater rights. Many were fired by their employees -- subsidiaries of the state-controlled KazMunaiGaz company -- over the summer.
President Nursultan Nazarbaev, who visited the remote region last week, accused energy officials and the local government of failing to address the protesting oil workers' demands.
Nazarbaev fired his powerful son-in-law, Timur Kulibaev, as the chairman of Samruk-Kazyna, which controls almost all of Kazakhstan's major businesses, including oil and gas firms. He also fired the governor of Manghystau Oblast and the KazMunaiGaz board director.
The head of a government task force created to restore order in Zhanaozen announced on December 28 that
a 20-day curfew imposed
on the city in the wake of the violence would be extended. The official, Umirzak Shukeev, did not say how long the special police measures would remain in effect.
There are claims that real casualty figures greatly exceed the numbers given by officials.
RFE/RL's Kazakh Service quoted
relatives of protesting oilmen as expressing fears, in taped interviews with local bloggers, for the safety of their husbands and other detainees caught up in the authorities' crackdown since the violence.
with additional regional agency reporting