WATCH: An Uzbek baker in Osh makes traditional patyr nan bread using an old LP.
In the southern Kyrgyz city of Osh, one bakery has a novel approach to spinning out its signature patyr nan -- the elegantly decorated circular bread that makes up the heart of many a Central Asian meal.
This Uzbek baker, who runs a small operation in the Shark mahalla on the east side of the city, uses an old LP to rotate the bread as he shapes it and deftly ornaments it using only a razor blade and a decorative cutter. Add that to the list of
creative ways to convert
your old vinyl records!
Music enthusiasts, forgive me. I don't know what the album was. The label had long since been rendered unreadable by the yeasty emollients pounded on top of it.
After the bread parts company with the LP, it's sprinkled with sesame seeds and popped into a wood-burning oven. The end result is soft, delectable bread surrounded by a tart, chewy crust. A single round sells for around 12-15 som (around $0.25).
-- Daisy Sindelar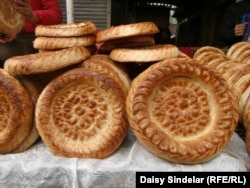 Patyr nan on display at a marketplace in Osh