OSH, Kyrgyzstan -- A performer with the Uzbek Music and Drama Theater in Osh walks slowly up the aisle of the theater, dragging heavy chains behind her as she sings a refrain from "Kanyshanym koz yashy," a traditional Uzbek drama honoring the life of an ancient female leader who saved the land that is now southern Kyrgyzstan from ruin.
The drama is usually performed in Uzbek. But this week the artists are using both Uzbek and Kyrgyz in the staging, as part of efforts to support reconciliation efforts as the country marks the first anniversary of the deadly ethnic clashes that rocked southern Kyrgyzstan last year.
To be sure, the anniversary of the so-called "June events" -- four days of vicious clashes between Uzbeks and Kyrgyz that left 470 people dead and hundreds of homes destroyed -- are unfolding in an atmosphere that can best be described as fraught. The Kyrgyz government has roundly rejected international findings criticizing the authorities' role in the events, and in the south, many Kyrgyz and Uzbeks remain deeply bitter about the experience.
But throughout Osh, there are small signs emerging that the city, while still scarred, is in some ways returning to normal. The local government recently unveiled new housing for families of victims of last year's violence, and the performance of "Kanyshanym koz yashy" is a tacit acknowledgment by the authorities of the Uzbek community's long and prestigious history in the region.
Moving Forward
In ordinary life, too, there are growing signs of harmony -- or, more accurately, signs that in many ways the city did not lose all of its neighborly ties in the wave of violence in 2010.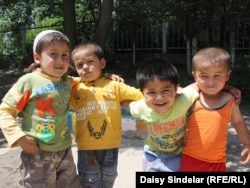 Children at Kindergarten No. 30 in central Osh
Kindergarten No. 30 is located on Osh's central Lenin Street, just a few kilometers away from the Hotel Alai area where the June violence first erupted. The children noisily enjoy a last few minutes of playground time before being called in for lunch and a nap.
As they run and jostle each other, you can hear a mix of Kyrgyz, Uzbek, and Russian. The students at school No. 30 are a composite reflection of the city's ethnic diversity -- something school officials say hasn't changed since the June events.
"The school never stopped working, even during the June events," says its director, Salamat Oshenbaeva. "And we haven't had any parents drop out since then. We have 300 children -- Kyrgyz, Russians, Uzbeks, even some Tatars -- and they all like it here and feel comfortable with each other here."
It proves difficult to corral young students in the throes of midday recess to ask them dry questions about language and ethnicity. But their teacher, Mamlakat Khalberdieva, says they are comfortable speaking all languages, and that they're largely oblivious to the questions of national identity that currently preoccupy so many of the city's adults.
'We Try To Understand Each Other'
Khalberdieva, who is Uzbek, has spent 25 years as a teacher -- a profession she says keeps her young and optimistic. She says in the days following the June events, she noticed many of her students steering clear of children from other ethnic groups -- a tendency, she thinks, that they likely picked up from their parents.
But with time, such boundaries have evaporated, and the children play with abandon, oblivious to who is Uzbek or Kyrgyz or Tatar. "These are little kids," Khalberdieva says. "They simply like each other. There's no reason for them to care who's who."
And the parents, she adds, have come around as well. "We have good relations with all the parents," she says. "We have good parents, understanding parents. We have good ties with them, and they with us. We try to understand each other."
The school teaches most of its lessons in Russian, although older children may take some classes in Kyrgyz. There are, however, no lessons in Uzbek, an issue that has become a sore subject for many of the city's Uzbeks, who saw several of their native-language schools torched in the clashes and now have just a single school prepared to offer instruction in their mother tongue.
Speaking From The Heart
Still, some residents say the school question is made less urgent by the reality that nearly everyone in the south speaks, or at the very least understands, both languages. This is nowhere more evident than in the affairs of the heart, with interethnic couples continuing to marry even after the clashes.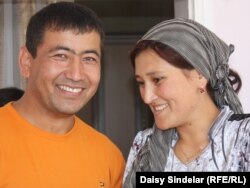 Sabyr Umurzakov, who is Kyrgyz, and his new wife, Dilfuza Khashimova, an Uzbek, grew up near each other outside Osh.
Newlywed Sabyr Umurzakov, 27, is a Kyrgyz living in the region of Aravan, a fertile agricultural center a half-hour drive from Osh. His bride, Dilfuza Khashimova, an Uzbek, is a shy 21-year-old prone to pulling her headscarf over her mouth to hide her nervous giggles.
Umurzakov laughs as he recalls the early months of their courtship. "She gave me a really hard time," he says with a broad grin. "She yelled at me, she'd refuse to speak to me. Now she doesn't do that, at least not quite as much."
Khashimova and Umurzakov grew up within meters of each other in this area outside Osh, which has the highest rate of interethnic marriage in the region. The local marriage-registration bureau, which keeps a special file on interethnic marriages, says that last year, of 1,250 local marriages, 76 were between couples of mixed ethnicities -- not only Kyrgyz and Uzbeks, but Tajiks, Azeris, and Tatars as well. "We've always had very open relations between the groups, and the events last year didn't change anything," says Mavluda Ismanova, an official at the marriage bureau.
Umurzakov says his marriage to Khashimova was careful to observe the traditions of both his Kyrgyz and her Uzbek heritage, and that none of their friends or family members objected to the marriage. "We're used to it here," he says, as he and his young bride joke and tease each other as they pose for a photograph. "No one pays any attention to it."
RFE/RL Kyrgyz Service correspondent Aida Kasymalieva contributed to this report